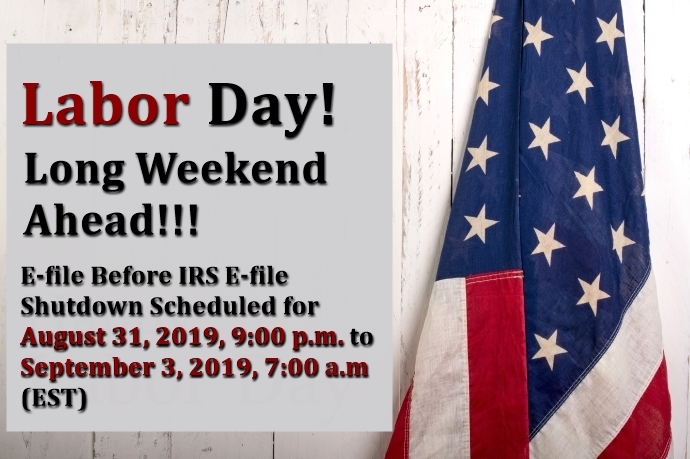 Labor Day, is a day dedicated to honor and celebrate the American Labor Movement and the contribution that the labor force has made in maintaining and the wellbeing of the entire population of our great country. Every First Monday in September is set aside by the U S Department of Labor to celebrate and appreciate the great American workers, hence it is Federal holiday across the Nation.
Speaking of American greatest workers, we cannot overemphasis the contribution of the Trucking Company and especially the truckers that have sacrificed their time with family and friend to be on the road and ensures smooth and on-time delivery of good across the nation.
In the spirit of the labor day celebration and on the occasion of 125th anniversary of Labor Day, all government offices will be closed and the IRS have also scheduled their annual Labor Day power outage beginning Saturday, August 31, 2019, starting at 9:00 p.m. and ending Tuesday, September 3, 2019, at 7:00 a.m. (EST). During this time the IRS E-file system will be non-operational and any return filed during this time will not be processed until the Shut Down ceased.
If you are yet to file your Form 2290 for TY2019-20, we suggest you file before this shutdown to have your return processed instantly and your Sch.1 will be sent to your email within minutes. You wouldn't want to take any chances, www.Tax2290.com / www.TaxExcise.com gives you the opportunity to beat the crowded lines at the IRS office and have your 2290 stamped sch.1 copy renewed for the TY2019-20 and delivered to your email id within minutes.
You're not too late, but the September 3, 2019 deadline is only a few days away! Let us make your form 2290 filing hassle-free, reach our Tax expert at (866) 245 – 3918 or leave us your phone number in the email: support@taxexcise.com and we will walk with you every step of the filing process.
Share this and help your friends also to stay compliant! Just 6 Business Days left for the deadline!