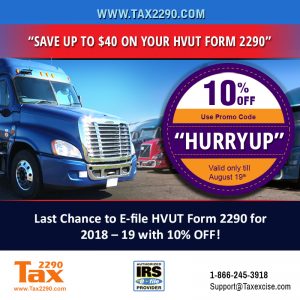 The quality of decision is like the well-timed swoop of a falcon which enables it to strike and destroy its victim – Sun Tzu
Lost time is never found again, absolutely true. Time is a Key thing that defines a Truckers success in his/her professional life. There are several things that folks in trucking industry do to save time & Money. End of the day we all work hard for money, Truckers and the Entire trucking Community work round the clock, sacrifice precious time that they can spend with their loved ones.
Though the entire trucking community tries to skip several unwanted things to save time and money, there are few very important things that they cannot even think of skipping or postponing. Yes! You got it right Its Taxes that they cannot skip or postpone. But the big question still stays; can they save time and money when they file taxes? Brace yourself, that you are reading this article at the right time YES! Is the answer and www.Tax2290.com / www.Taxexcise.com is the way to do it.
Month of July and August are very crucial for folks involved in Trucking Industry, as they have to renew the Federal Excise Tax Form 2290 for the upcoming tax Year. Unlike other tax Payers Truckers would love to get their taxes filed way before the deadline, as they wish to avoid the peak hour rush. To encourage and appreciate this attribute of the Trucking community, we www.Tax2290.com / www.Taxexcise.com have decided to offer a Flat 10% off on the E-file Preparation Fee.
We have spoken about Time and money; Truckers can save up to $40 from their hard earned money and about time they can save almost a day that they spend at the local IRS office to Paper file their HVUT. Another Important aspect about Time is the Discount offer is valid only until August 19th. Do not waste even a minute log on to www.Tax2290.com / www.Taxexcise.com E-file your Heavy Highway Vehicle Use Tax Form 2290 (HVUT) and apply discount code "HURRYUP" when prompted, before making payment for the service and avail the FLAT 10% OFF.
For any more questions feel free to reach our Team of Tax Experts @ 1-866-245-3918 or write to them @ support@taxexcise.com , you may even ping them using the LIVE CHAT option available on the application.