Hello, truckers! The new tax period, 2023 – 2024, started last month. The IRS is accepting Form 2290 truck taxes for this season, and truckers are actively reporting Form 2290 returns to get the Schedule 1 copy on time. Truckers and trucking taxpayers must report Form 2290 tax returns for this season by August 31, 2023. As the deadline is approaching, it would be best to e-file Form 2290 on Tax2290.com to stay ahead. E-filing Form 2290 online on our platform has a lot of benefits. The topmost advantage is you will get the IRS digitally watermarked Schedule 1 copy directly to your email. You don't have to wait for days or weeks to get the Schedule 1 copy from the IRS. Every process is smooth and instant in e-filing Form 2290 on Tax2290.com. If you haven't reported your 2290 taxes, register for free on Tax2290.com, e-file Form 2290 returns, and get the instant Schedule 1 copy today.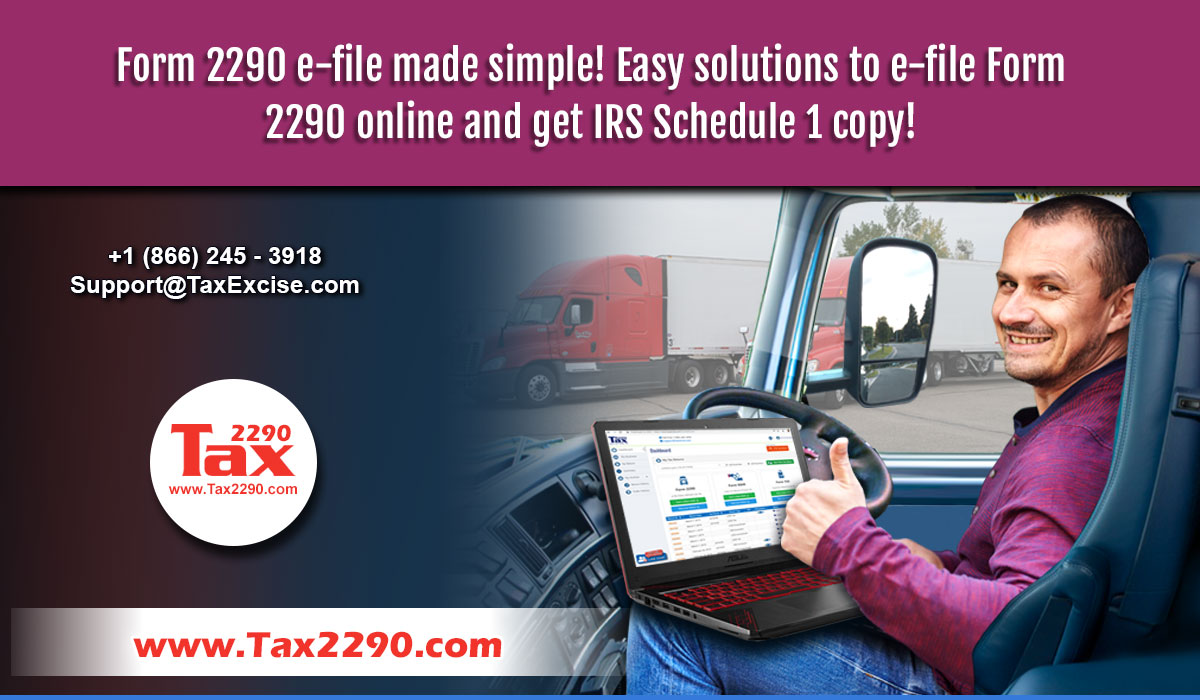 Swift Processing.
E-filing Form 2290 guarantees quick processing of your 2290 tax returns. Since the deadline is just 15 days away, you can easily prepare your tax reports online, transmit them to the IRS, pay your taxes online through authorized payment gateways, and get the IRS digitally watermarked Schedule 1 copy in less than an hour. With Form 2290 e-filing on our platform, you can conveniently stay ahead of the deadline to avoid IRS actions like penalties, late fees, and interests over the tax dues for missing to report the taxes on time. Also, you can smoothly operate your trucks on public highways with a valid Schedule 1 copy without running into trouble with the authorities.
The efficient way to report your taxes on time.
You don't have to wait in a queue, send your tax reports through the mail, or wait days to process them. You can complete the entire Form 2290 HVUT e-filing process from the comfort of your home/office using your PCs, smartphones, laptops, and tablet devices. Tax2290.com brings you the complete process of preparing Form 2290 returns, reporting them to the IRS, paying your tax dues online, and getting the Schedule 1 copy as proof of payment to the tip of your fingers. Therefore, you can save time and have a stress-free tax filing season.
Accurate Tax Preparations.
Preparing your Form 2290 truck taxes on Tax2290.com eliminates unwanted human-made errors. With our bulk-upload feature, you can upload multiple vehicle information in a single click through an Excel file. Also, other features like clone tax returns allow you to use the previously e-filed tax return information for the current tax year and import vehicle information feature to reuse the vehicle information from last year's tax returns. After preparing the tax returns, you can use the 'VALIDATE' option to check for errors. If our system spots any error in your 2290 tax reports, you can return to that particular page and edit your tax reports. You can e-file Form 2290 with 100% accuracy on Tax2290.com.
Zero Paperwork.
Every step of preparing and reporting Form 2290 HVUT is done online on our platform, eliminating the need for paperwork. As our platform is available 24/7, you can log in to your account and report your 2290 tax returns whenever you want. You can do it away from business hours or during weekends, which you cannot do when paper file your tax reports. Also, Tax2290.com offers unlimited record-keeping. All business information, tax returns, and Schedule 1 copies are stored in our system securely and can be accessed only by you. You can access and download them for reference and audits whenever you wish. It eliminates the need for paper forms, manual record keeping, filing, and the risk of losing essential documents.
If you have any queries regarding the Form 2290 e-file, please contact our customer care desk on 1-866-245-3918 (toll-free) or write to us at support@taxexcise.com; we will reply promptly.