A shout-out to all truckers and trucking taxpayers out there! Tax2290.com is the best suitable platform for all types of truckers, from single truck owner operators to large trucking conglomerates, to report Form 2290 HVUT returns online. We provide a comprehensive platform with premium facilities to prepare your tax reports accurately. You can have a simple, accurate and stress-free e-filing on our platform. As the deadline to report Form 2290 tax reports for the new tax season is approaching soon, you must report Form 2290 online on Tax2290.com. We provide a special coupon code to save big on Form 2290 e-filing charges this season. So, don't wait. Register for free and start preparing your taxes now!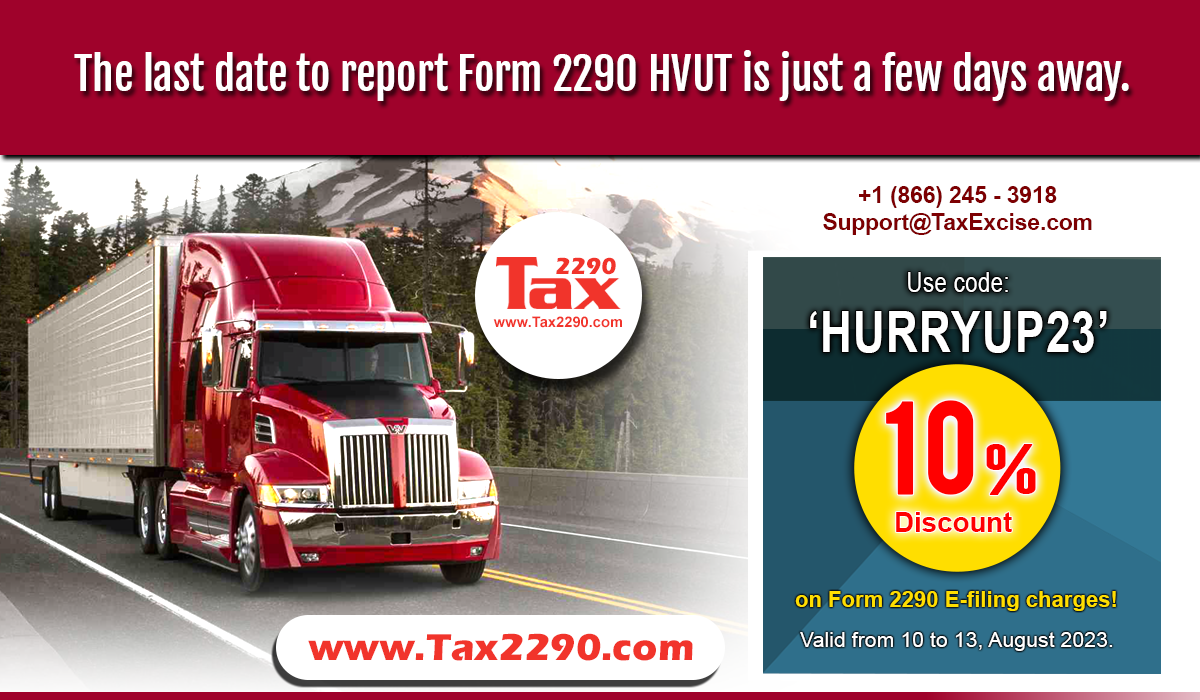 Get the Schedule 1 copy before the deadline hits!
There are a lot of benefits to reporting your taxes before the deadline. As the new tax season has already started, it would be best to get the Schedule 1 copy at the earliest to continue your business smoothly on public highways. To ensure uninterrupted trucking operations, e-file your taxes on time and get the proper Schedule 1 copy. Failing to report Form 2290 tax returns on time will lead to financial consequences. IRS will charge heavy penalties, late charges and interest over your tax dues which may cost more than your actual tax dues. So, it is best that you report and pay your Form 2290 reports on time to avoid the IRS's financial actions. Also, last-minute tax reporting will cause lots of tension and confusion. You will get into trouble if you make errors in your 2290 tax reports. IRS will reject the incorrect tax reports if the information in your tax reports doesn't match your records. You might not get the IRS Schedule 1 copy, or you might get an incorrect Schedule 1 copy. These scenarios will lead to additional problems affecting your trucking operations.
Tax2290.com is the perfect platform to e-file Form 2290.
To overcome all these problems, E-file Form 2290 on Tax2290.com as soon as possible. Our platform offers a comfortable interface to e-file Form 2290 online all by yourself. You don't need any external help or technical guidance to e-file Form 2290 HVUT on our platform. Also, you don't have to employ any CPAs or paid preparers to e-file on your behalf. E-filing Form 2290 is a DIY process in our platform. All you need is a smart device like PCs, laptops, smartphones or tablets and a strong internet connection to prepare and report your taxes online to the IRS. We have a mobile application for Android and iPhone users to effectively e-file Form 2290 HVUT returns using smartphones.
The final coupon code for the season.
As the last date is approaching, Tax2290.com is offering a special coupon code to all our users to save big on their Form 2290 e-filing charges. Use the coupon code 'HURRYUP23' for a flat 10% discount on your Form 2290 e-filing service charge from Tax2290.com. This exclusive offer is valid from 10 to 13 August 2023. So, we request that all truckers and trucking taxpayers use this offer to e-file Form 2290 HVUT reports days before the deadline. With this offer, you can e-file Form 2290 economically and smoothly continue your trucking operations on public highways. To learn more about this offer, don't hesitate to contact our customer care desk at 1-866-245-3918 (toll-free) or write to us at support@taxexcise.com; we will reply promptly.