Hello, Truckers! The deadline month has begun. You must report Form 2290 HVUT for the current tax period, 2023 – 2024 and get the IRS Schedule 1 copy before the end of this month to smoothly operate your trucking business on the public highways. As the seasonal rush is happening and the IRS is strict about the deadline, choose e-file Form 2290 online for an accurate and hassle-free tax reporting season. Our platform exclusively offers convenient Form 2290 e-filing where truckers and trucking taxpayers can smoothly e-file Form 2290 directly to the IRS and get the instant Schedule 1 copy directly to their email. You no longer have to wait for days and weeks to report your taxes through the paper filing method and get the IRS Schedule 1 copy through the mail. You can complete the entire Form 2290 e-filing process in our platform from the comfort of your home, office or wherever you use your PCs, laptops, smartphones and tablet devices.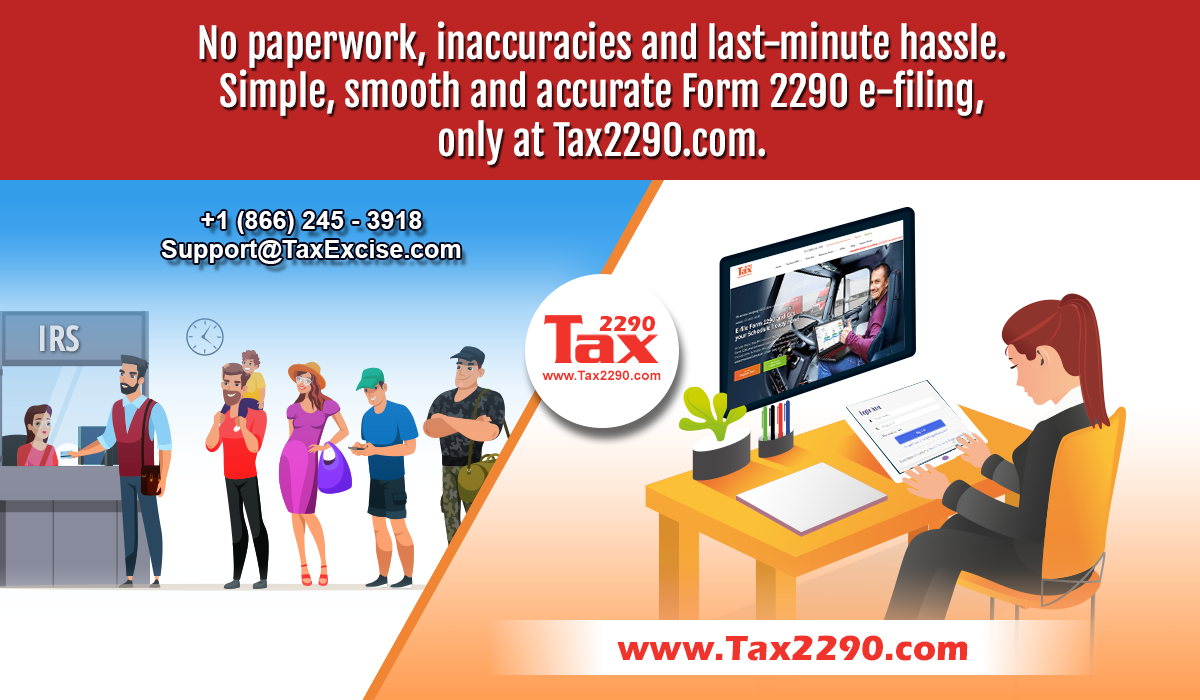 Stress-free process to prepare and report Form 2290 HVUT online.
IRS brings this Form 2290 e-filing opportunity for the benefit of the trucking community. It allows them to have a smooth and hassle-free tax filing, which is otherwise tedious to perform every tax season. Tax2290.com is an IRS-approved Form 2290 e-filing service platform where truckers and trucking taxpayers can easily e-file Form 2290 HVUT returns directly to the IRS. We provide many unique features that enable you to prepare your Form 2290 accurately and transmit them to the IRS in a single click. You will get the IRS digitally watermarked Schedule 1 copy to your email almost instantly once the IRS process your tax returns. E-filing Form 2290 tax reports eliminate the need for physical paperwork, eliminating the hectic nature of spending time and money on it. Also, e-filing avoids all chances of manual errors. You can use the 'Validate' option to check for errors in your Form 2290 reports. If the system spots any errors, you can return to correct those errors and e-file your tax reports error-free. Tax2290.com employs all the latest technical security measures to provide you with an iron-clad e-filing environment which is safe and secure for your data.
Convenient and secure Form 2290 e-filing.
All you need is a convenient device and a strong internet connection to e-file Form 2290 to the IRS and get things done. E-filing Form 2290 HVUT returns is an on-the-go process; you don't have to stress about anything. We offer real-time status updates through our TEXT alert services regarding the status of your Schedule 1 copy with the IRS. Tax2290.com offers unlimited record keeping where all your data, information, tax reports and Schedule 1 copies are stored in our system. You can access them from the dashboard of your Tax2290.com anytime. You can register for free on Tax2290.com and e-file Form 2290 HVUT for this tax season at pocket-friendly prices. For any queries regarding Form 2290 e-filing, contact our customer support team at 1-866-245-3918 (toll-free) or write to us at support@taxexcise.com; we will reply promptly.
Get into Form 2290 and e-file this tax season with Tax2290.com. Use our unlimited benefits for a smooth, effective and economical 2290 tax reporting process. Register today and experience Form 2290 e-filing this tax season.