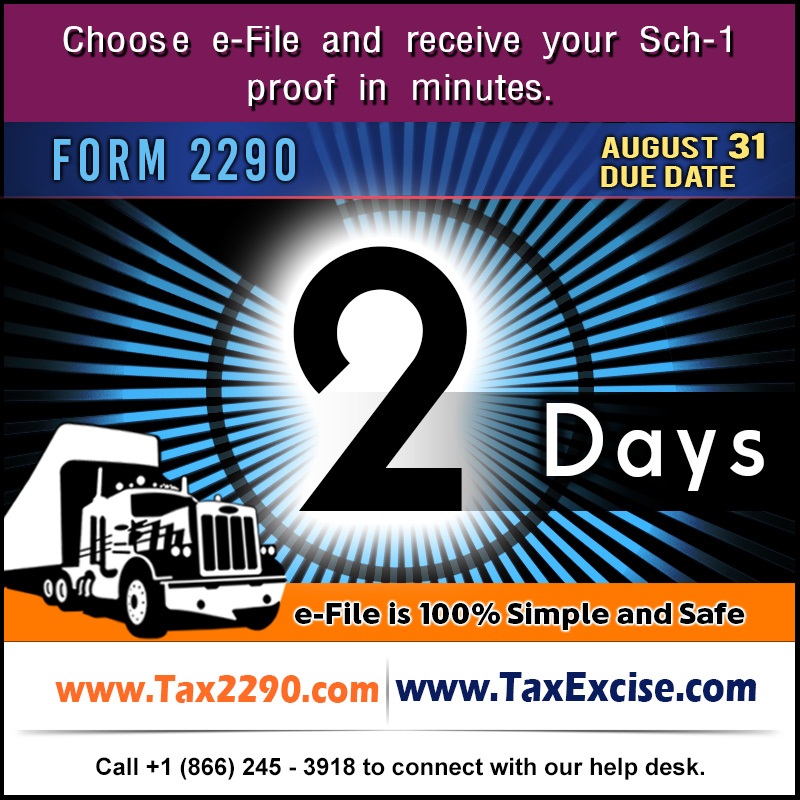 Today is August 30, 2017 which means we officially have only 2 days including today to E-file our Heavy Highway Vehicle Use (HVUT) Tax Form 2290 for Tax Year 2017 – 2018. But when you read this article you will not have the complete 2 days to E-file your Heavy Vehicle Use Tax Form 2290. IRS Form 2290 is Due Tomorrow August 31, 2017.
When you E-file your Federal Excise Tax Form 2290 during regular days you get the acknowledgement from the IRS within few minutes. Last three days the IRS gets a huge volume of returns to process which of course will delay   issuing the Stamped receipt process. Tax Year 2017 – 2018 has shown a great progress in terms of Truckers opting of E-filing which is good but they all have chose to wait until the last moment arrives, which is leading to a virtual traffic Jam.
Log on to www.Tax2290.com Right away to complete your Form 2290 For Tax Year 2017 – 2018 and reach our Handpicked Tax Experts @ 1-866-245-3918 or write to them @ Support@Taxexcise.com or chat with them using the LIVE CHAT option on the application.