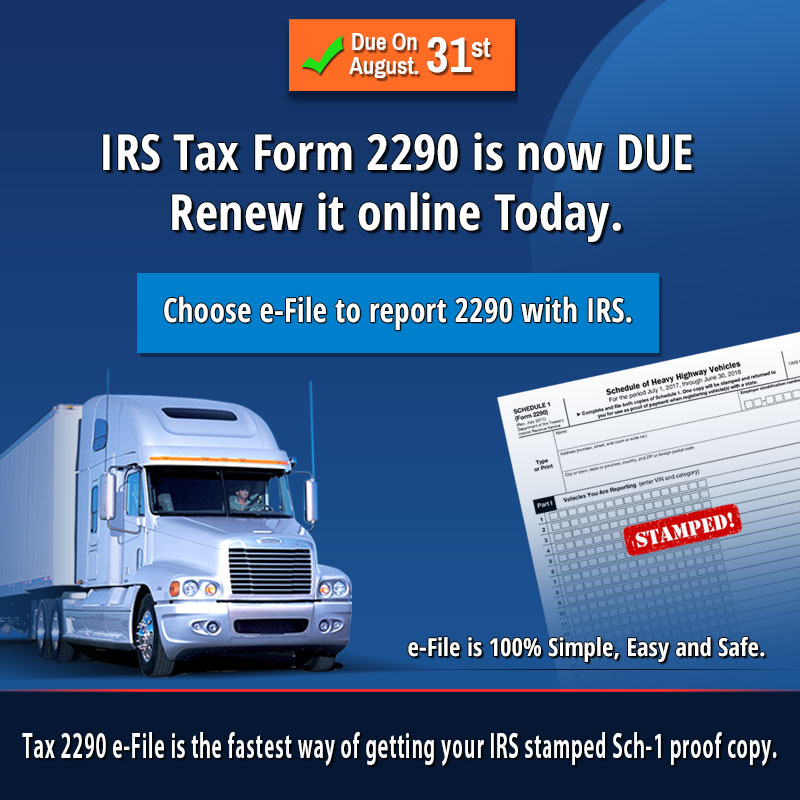 I DON'T HAVE A "9 to 5" I HAVE A "WHEN I OPEN MY EYES TO WHEN I CLOSE MY EYES" That is a truckers life one line. Time is an important factor in any individual's life but for a trucker it's his/her bread and butter. They can never be late, they can be early though. Most of the things truckers do are time bound; one such important thing is filing their Taxes.
Though truckers file numerous taxes, they still tend to miss out on things that they do once a year. That is mainly because the tax that we are discussing is not the Personal income tax or Business Income tax that deadline that is common for everyone. The Tax that we are discussing about is the federal Heavy vehicle use Tax Form 2290 (HVUT). This tax is filed only once a year in the months of July and August, this deadline falls right in the middle of the year.
Tax Year for HVUT FORM 2290 Starts from July and ends by June of the Following year, which means anyone who has not filed a Form 2290 after July 2017 is operating his / her Heavy Vehicle with an Expired Schedule 1 copy, which would be considered as an offence if not renewed on or before August 31st 2017. Another fact about this Tax form is that, it has to be filed in advance unlike other Taxes. Example Form tax Year 2017 – 2018 the Tax Form 2290 must be filed and paid in July 2017 itself.
The above mentioned Example is the current situation, anyone denies to accept the fact can refer their Stamped copy and it would say valid till June 30th 2017, if it was filed for Tax year 2016 – 2017. In the Time bound lifestyle, where Truckers have very limited time to spend even with their loved ones, it is close to impossible that they spend almost a day in the IRS office trying to figure out and pay their HVUT.
www.Tax2290.com – A product of ThinkTrade Inc, the First ever IRS Authorized E-file Service Provider & The ONLY DECADE OLD IRS Authorized Efile Service Provider for E-filing Heavy Vehicle Use Tax Form 2290 (HVUT) reminds every Single individual Trucker and folks involved in Trucking business that it is high time to gear up and E-file their HVUT through www.Tax2290.com . Efiling HVUT Form 2290 through this web based application takes hardly 30 minutes and you can spend the rest of the day that you allotted for filing this tax Form with your dear ones.
Contact our Handpicked, Industry's Best & Most Experienced Tax Experts for any assistance @ 1-866-245-3918 or write to them support@taxexcise.com , you may even chose to ping them using LIVE CHAT option embedded with the website.
NOTE: Our Dedicated Tax Experts are available on all weekends till the end of this crucial Tax Season that is till the end of August.