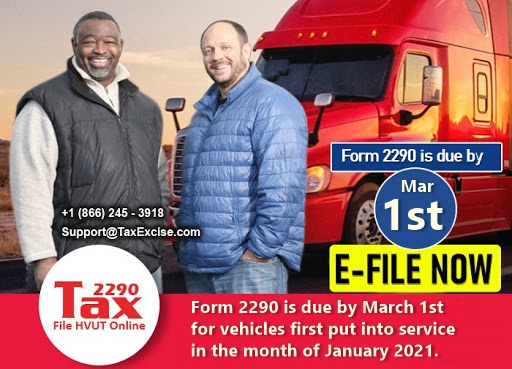 When starting a trucking business you would possibly want to think about joining www.taxexcise.com / www.tax2290.com. If you're just getting started within the industry call www.taxexcise.com / www.tax2290.com for a competitive quote with a corporation that focuses on truck tax filings and other federal tax forms and IFTA for all states.
Do also browse and look into the other services offered since we also are an IRS certified provider for Claim of Refund Form 8849 (schedules 1, 2, 3, 5, 6, and 8) and the Quarterly Federal excise Form 720, and the preparation of IFTA (International Fuel Tax Agreement).
TaxExcise.com the foremost preferred website to E-File Federal excise forms would really like to stay you reminded about the upcoming deadline for form 2290. Filing form 2290 is formed much easier and fewer complicated since e-file came into effect, the IRS strongly recommends to E-file if you're expecting to report 25 or more vehicles, this makes processing returns faster and stamped Schedule 1 copies are made available within a couple of minutes.
The Federal Heavy Vehicle Use Tax must be filed by anyone who has registered or is required to register an important highway automobile with a taxable gross weight of 55,000 pounds or more in their name at the time of first use on the general public highways.
Never omitted on the upcoming deadline, act fast and file your returns on time to avoid paying extra on top of your tax as penalties and interests alongside late filing charges. This filing deadline isn't the same as Vehicle Registration date. Form 2290 is due now on a Pro-rated basis for vehicles first used since January 2021.
Some more benefits that the www.taxexcise.com / www.tax2290.com offers are excise tax e-filings, discounts on e-filing services, DOT Compliance forms for your federal tax forms, help you e-file extensions also help your trucking business in the future, and provides information about HVUT taxes. you would possibly even be wondering about the way to complete this form before the deadline, we 're here to make your filing experience as easy as possible. For any support be happy to use our three way line of communication, you'll reach us at 866 – 245 – 3918 or write to us at support@taxexcise.com, LIVE CHAT support is additionally available that permits you to chat with our agents for instantly help.