Tax2290.com the best electronic filing website that takes extra care in preparing and reporting 2290 HVUT returns with IRS. Ms. Megan Klatt, from Oklahoma was new to e-file and she quoted as "For my first time filing the 2290 your website was easy to understand and very easy to use. Thank you, I was nervous, you kept me quite and I'm impressed." E-file is easy and simple, even a first time filer can choose to do 2290 taxes electronically as Tax2290.com made it the simplest and easiest way of reporting taxes online.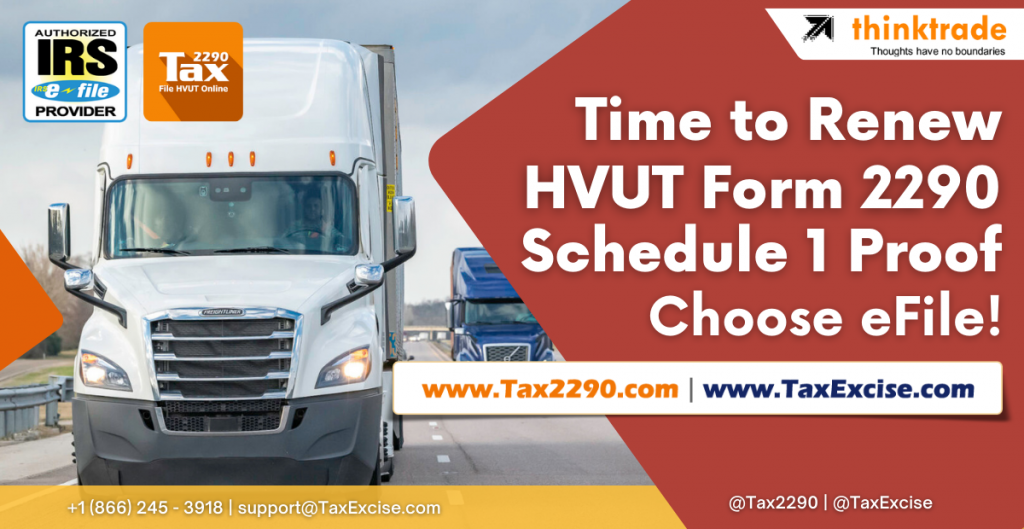 Getting Start with 2290 E-file for July 2021 – June 2022
To complete Form 2290, have the following information ready before you start preparing the tax return;
Your employer identification number (EIN). You must have an EIN or FEIN to file Form 2290 online. You can't use your social security number. Enter the correct EIN that was assigned to your Business at the time of registration by the IRS. If you don't have an EIN, apply for one online at IRS.gov website.
The vehicle identification number (VIN) of each vehicle. The VIN of your vehicle can be obtained from the registration, title, or actual vehicle. Generally, the VIN is 17 characters made up of numbers and letters. Be sure to use the VIN for the vehicle and not from the trailer.
The taxable gross weight of each vehicle to determine its category between A – V and W category for Suspended vehicles.
When you have the details, start with your 2290 online at Tax2290.com, complete it in less than 10 to 20 minutes. Pay the nominal e-file service fee and transmit it to the IRS for processing. Your IRS stamped schedule-1 proof will be shared with you instantly once IRS accepts your return, the same will also be emailed to your inbox (to your registered email address that you have entered).
Most Preferred Electronic Filing for Form 2290 Reporting
Electronic filing or E-File is required for reporting IRS Form 2290 and paying taxes on 25 vehicles or more in a tax return. However, all taxpayers are encouraged to file electronically as it allows for quicker processing of your 2290 tax return. When e-filed a stamped Schedule 1 proof can be available within minutes after filing and acceptance by the IRS.
Every trucker or owner operator is insisted to avail the benefits of electronic filing as it is the fasted way of getting your return processed by the IRS, the stamped schedule-1 proof is made available immediately to your inbox.
An excellent combination of comfort and expertise accessible from your home or office, desktop computer or tablet devices or from your smart phones
Dedicated tax expert who will work hard to take care of your filing and guarantee 100% accuracy as well as your satisfaction with his work.
Email or Chat or Call, we have experts to handle it with care. You're with the most trusted e-file website since 2007 and rated top "the market leader" by your fellow truckers.
Secured and Safe tax filing services from a renowned Tax e-filing company. 100% secure by SSL with encryption measures built in and an assurance about confidentiality of your personal information through McAfee Secure.
Anytime, anywhere access to your tax information and documents. This includes access to your Federal Excise Tax Returns, Schedule -1 copies, year-round assistance.
When you are behind wheels we know how important it is to keep you informed of your filing deadlines and preparing 2290s with 100% accuracy. We have scaled our service year on year to set a bench mark in the industry and here is what some of our prestigious customers has said about our service.
Call us at 1-866-245-3918 or mail us at support@taxexcise.comfor any suggestion and queries. Rest assured, our Tax Experts would never let you go wrong!