IRS Truck Tax returns reported and paid to the IRS in Form 2290 on the heavy trucks is now due for renewal and has to be filed before August 31, 2021. Act fast a nd have this paid now to avoid the last minute rush, that could take some time to receive the IRS stamped Schedule 1 proof which is essential to register the vehicles with the federal authorities for the new tax period.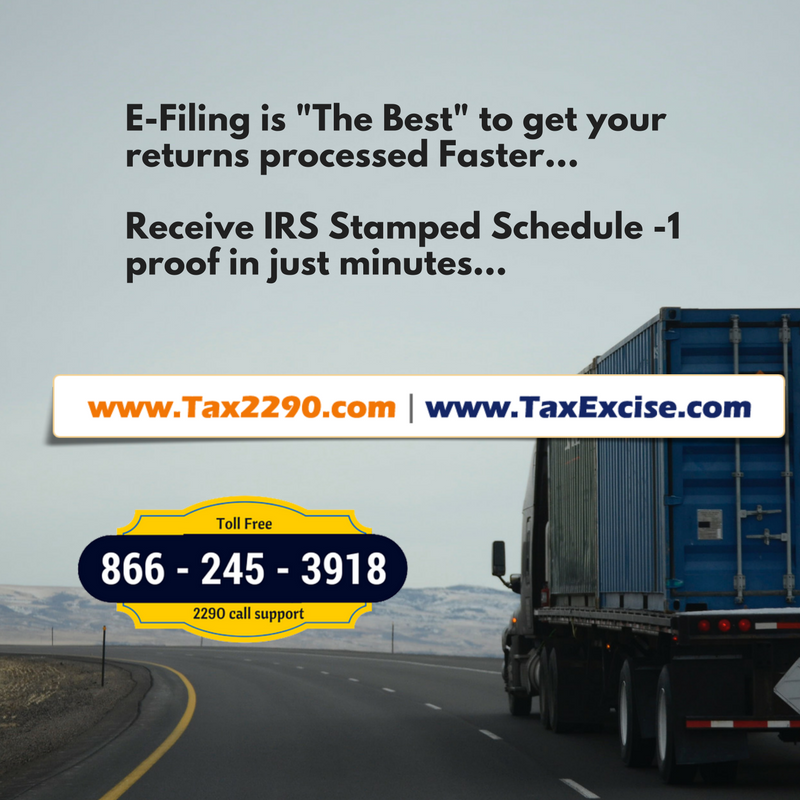 Tax2290 and Electronic Filing since 2007
As one of the most reliable company supporting American Truckers to report the Federal Heavy Vehicle Use Tax returns online, we bring the latest technology to you, having the greatest number of powerful features enabling you to prepare and report 2290 Taxes. No matter, how you decide to prepare your 2290 tax returns: whether it would be using your home/office computer or smartphone devices, we promise to ease your electronic tax filing experience.
Convenient and Safe 2290 Electronic Filing
Unique and robust electronic filing features for Owner Operators, Truckers and businesses to complete it in 3 simple steps. You just need to have a valid EIN issued by the IRS to choose electronic filing. Getting started is simple, just register and have your own user account, add your business and vehicle details and transmit it to the IRS for processing. IRS water marked Schedule -1 is available in just minutes once IRS accepts your 2290 return.
Provided the pandemic we ensure that we bring you the best and safe way of efiling 2290 tax returns to your door step, never get exposed and get 2290 complaint. Electronic filing won't let you file an incomplete tax return, prompts for all the required details before submitting it to the IRS for processing. IRS validates your details with their records and found any miss match, it would reject and allow you to correct it before it issues you the IRS watermarked Schedule-1 "Proof for Payment".
Super Easy and Fast 2290 efiling Service
Tax Form 2290 is filed with the IRS with the vehicle details such as the Vehicle Identification Number (VIN), Gross Weight Category and type of use. Tax2290.com will automatically do the math on the tax amount you owe, which you can paid electronically using Direct Debit or EFW, EFTPS, Credit or Debit Card and Check or Money Order payment options.
When you complete filing your Federal Vehicle Use Tax Form 2290 with the IRS electronically, IRS would validate your tax return and accepts it, as a token of acceptance it would return you a digital Watermarked Schedule-1 "Proof for Payment" PDF with IRS e-File Logo and Date watermarked on it.
Tax Exempt Vehicle and Zero 2290 Tax Reporting
Even for a Tax Exempt vehicle, Form 2290 must be reported with nil tax and Schedule-1 copy needs to be presented for vehicle registration. In this case vehicle exempt is indicated in the Schedule-1 receipt with a Suspended Category "W", which indicates it is exempt from tax.
Records keeping for 2290 taxes
Record Keeping is easy, simple and safe when you file it online at Tax2290.com, we'll be securely handling your records such as the Tax Form 2290 PDF, IRS Scheule-1 PDF etc. you can access it whenever you have a need just by signing in your user account.
Tax2290 brings you the most powerful and flexible tools for internet tax preparation and filing. On-demand features to make your tax reporting experience a rewarding one. Use mobile devices in Apple or Android Platform to complete your Tax 2290 return On-The-Go.