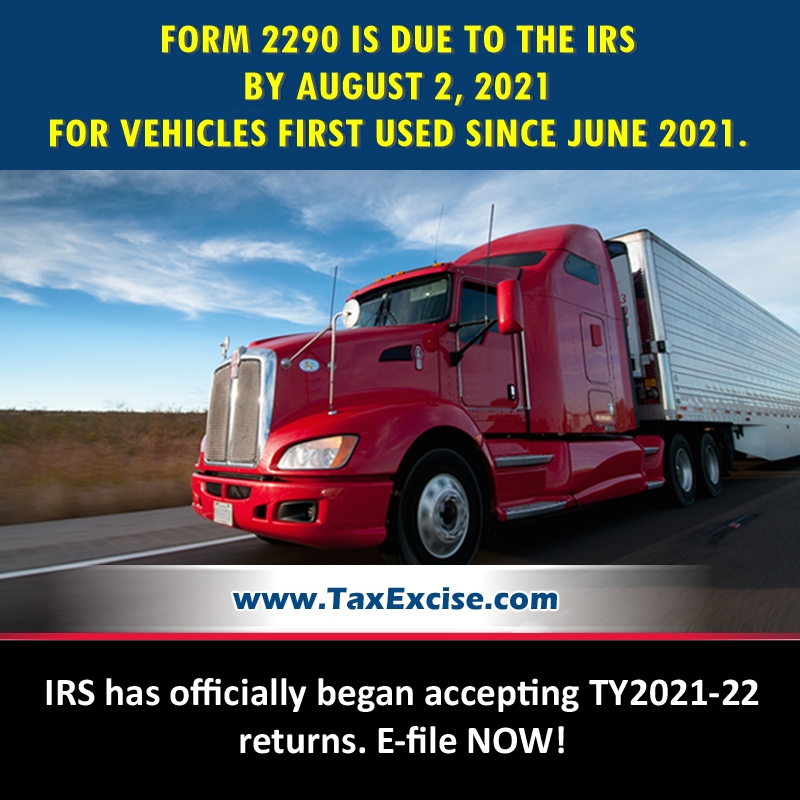 HVUT Form 2290 is required on the last day of the month after the month in which the vehicle was initially put into service, according to federal law. For nearly everyone in the trucking sector, completing Form 2290 has always been a time-consuming task. By submitting this form electronically, you may bypass the long line and obtain your Schedule 1 in a matter of minutes, rather than weeks.
Gentle reminder to all the truckers in the Trucking Industry across the Nation, it is mandate to have the Schedule 1 copy on your vehicle at all times and it is that time of the year to renew and complete the Tax Form 2290 for the tax period July 2021 – June 2022. The Pro-Rated deadline for the vehicles first used in the month of June, 2021 is before August 2nd, 2021. Be sure to have the vehicles reported to avoid Late filing charges/ penalties.
If you do not have an account, it is very simple to create an account, visit our website Taxexcise.com and sign up for free. Register, fill in your Business information and you are ready to start preparing your filing. Now that the new tax year has arrived, it's time to log onto Tax2290.com to get this form filled.
You can complete the filing at ease and also receive the Watermarked Stamped Schedule 1 copy from the IRS in minutes. We at TaxExcise.com always have a way around to make the filing easy for the customers who are always on the road, reachable on the mobile app or by calling the support help desk to have the filing completed over the phone in minutes.
Have any questions on completing your Form 2290, we are fully operational to answer all your queries and are available on all business days between 9:00AM – 6:00PM CST. You can contact us over the phone @ 866-245-3918 or email us your queries @ support@taxexcise.com or chat with out agents using the LIVE Chat support.