The Heavy Truck Owner and Trucking carriers have to renew the IRS Tax Form 2290 and the Schedule 1 Proof of Payment for the new Tax Season that starts July 2021 through June 2022.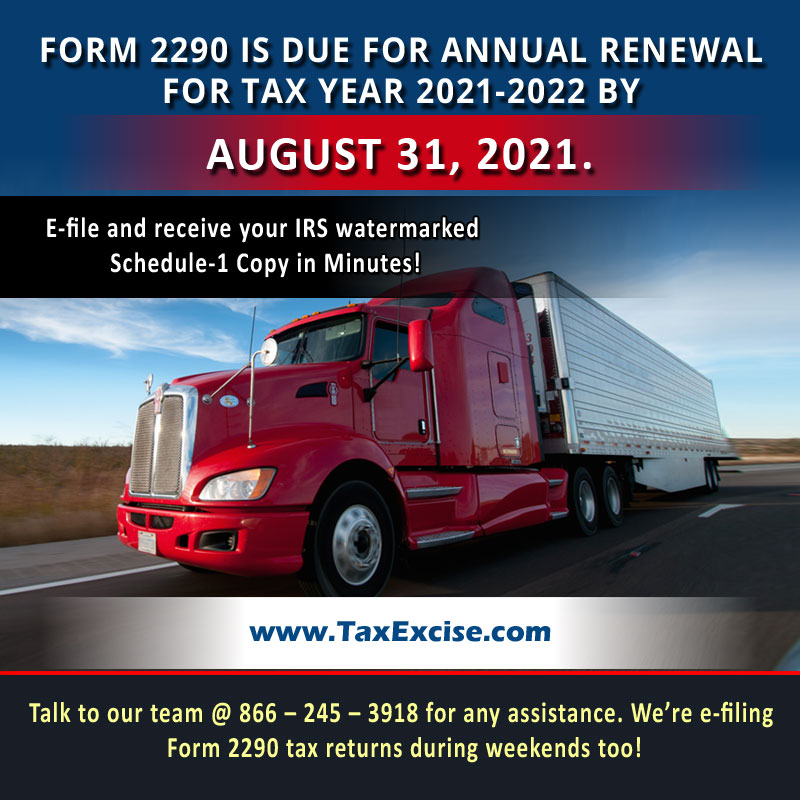 Truckers those who have registered, or are required to register, large trucks that it's time to file Tax Year 2021 Form 2290, Heavy Highway Vehicle Use Tax Return. The deadline to file and pay is August 31, 2021, for vehicles used on the road during July 2021.
Truckers, owner operators and heavy haulers need to report vehicle use tax Form 2290 on vehicles put to use on public highways. IRS Form 2290 is used to report and pay Heavy Vehicle Use Tax, or HVUT. You must file Form 2290 with Schedule 1 annually if a taxable highway motor vehicle, in this case any heavy vehicle weighing 55,000 lbs or more, is registered in your name in the U.S., Canada, or Mexico.
Now you can electronically file, or e-file, your heavy vehicle use tax Form 2290 for vehicles over 55,000 pounds. If you have more than 25 vehicles at this weight, e-filing is required by the IRS. If your vehicle is operated well within the mileage use limit of 5,000 miles (7,500 miles for agriculture vehicles), you can electronically prepare and report tax suspension on these vehicles.
Electronic filing can guarantee you that the IRS watermarked Schedule 1 proof of payment can be made available instantly, we get it done in minutes and you almost get it to your inbox in minutes. Electronic filing ease your records keeping, tax return and schedule 1 digital access, no need to visit an IRS office looking for appointments. Comfort and Convenient, Stress Free and Easy, Do it yourself and Guide to help your with your 2290 online filing all at Tax2290.com.
The renewal period for HVUT Form 2290 is typically from July 1 to August 31 each year. Normally this 2290 tax is reported between July 1 to August 31, filing after that would get penalties and late filing charges.
Tax2290.com the IRS Authorized eFile Service Provider:
Tax2290.com an IRS authorized electronic filing service provider for Federal Vehicle Use Tax – Form 2290 announced on July 1, 2021 that it is going to roll out e-filing for Form 2290 for the new HVUT (2290) Tax Period July 2021 through June 2022. Starting from July 1, 2021 truckers who has to report and pay the 2290 vehicle use taxes can get an access to the IRS watermarked Schedule 1 "Proof of Payment" instantly on their user account, once the IRS completes processing the 2290 tax returns and issues the acceptance.
Tax2290.com is the first website to start electronic filing service for Truckers since 2007, no turning back and becoming the most trusted service for Truckers to receive the Schedule 1 copies instantly. The step by step guide and easy to use website makes it a delight for truckers to choose efile, records keeping is free and easy, and any user can get access to their records anytime from anywhere. The Clone a return option helps a truck taxpayer to complete the return in just minutes by just reusing the tax date from a previously accepted return. Text Alerts, Fax Copies, Bulk Vehicle Data Upload, Import vehicle date from a previously reported return makes 2290 efiling a breeze. Economic service, you can connect to a real support agent through a live chat and have your questions answered, talk to our help desk at (866) 245 – 3918 or write to us at support@taxexcise.com.