The Federal Vehicle Use Tax Form 2290 filing for the Tax Year July 2019 – June 2020 is in full swing. This vehicle use tax is reported using IRS Tax Form 2290, by completing all the reporting VINs for which the taxes are to be paid. It's important to stay on top of the tax deadlines to avoid possible penalties and interest charges for late filing and payment of taxes. Never miss your tax 2290 deadlines, start preparing for it today and plan your payment schedules at the earliest.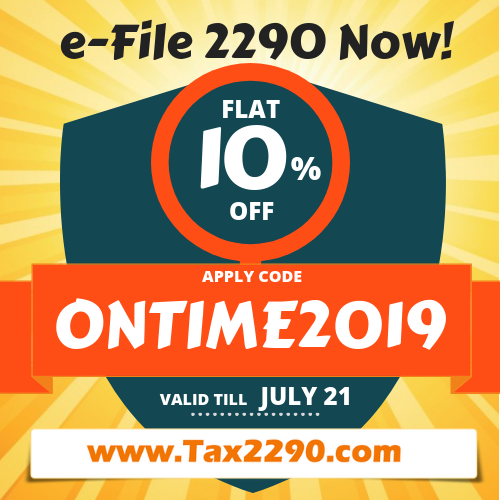 Save 10% Off on your Tax eFile Fee!
That said, choose electronic filing to prepare, report and pay the HVUT, Form 2290 dues with the IRS. Simple steps, quick process and best deal to save $$. Raining offers are back here, with the intention of helping the Truckers and Owner Operators to get through with the electronic filing fee to an extent. Grab it by applying the promo code "ONTIME2019" and this is for a week offer which lasts upto July 21, 2019. Never miss out an opportunity to save with your fee.
eFile to receive Watermarked Schedule 1 Receipt in minutes!
Once the IRS completes processing your tax 2290 return issues you a watermarked Schedule 1 proof receipt as a Proof of Payment of HVUT returns, which is needed to get your vehicle registered with the state authorities, renew tags or license plates and also to lease your vehicle.
Electronic filing is the fastest way to get it done and the best thing is you can do your taxes on your own here at Tax2290.com. It is easy to start with 2290 efile, create your own account and start with the electronic filing in just minutes.
eFile Taxes, not end up paying more!
If you didn't file your tax return on time this year, the sky will not fall. The worst that can happen in that you would end up paying more and sometimes double the taxes you owe as penalties and interest.
Getting stated with your 2290 tax filing obligations is easy and fast, report it online at Tax2290.com and receive your IRS watermarked Schedule 1 proof receipt in minutes. It's always better to file early or on time, so you can stop worrying about your taxes and move on to other things. In case of rejection you may give it a try again by correcting the typos.
Tax2290.com is rated top by 2290 tax filers, in fact we're the first in the market to support electronic filing since 2007. The most experienced e-file provider and robust features to make it more reliable and fast. No stopping, you can also eFile 2290 tax returns from your smart phone devices by downloading our Tax2290 Mobile Apps.
Talk to our Help Desk today for any support, we're working from 8:00 AM to 8:00 PM EST on all seven days of the week. We're just a phone call away to guide you through your eFiling process. Happy 2290 Tax eFiling!!!
---
Federal Excise Tax returns reported and paid using IRS Tax Form 720 is now DUE for 2nd Quarter of 2019. TaxExcise.com is the only online website to electronically report and pay the Federal Excise Taxes… What are you waiting for start today…