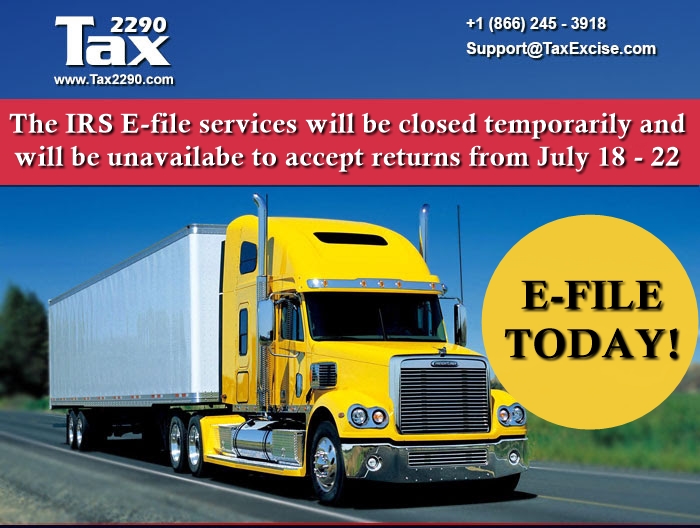 Dear taxpayers, may we have your attention, please!
The IRS e-file services will be temporarily unavailable for the period beginning July 18, 12: 01 AM (EST) through July 22, 12: 00 PM (EST) due to the system upgrade. Hence, any returns filed during this period will not be processed by the IRS.
However, we would be open and accepting returns during this shutdown period and would also be available to provide assistance with your filings during this time. So you can still submit your tax returns using our application and the IRS will process your return as soon as they are up and ready to accept them.
Forms that are affected during the shutdown time:
Tax Form 2290:
Form 2290 for the Tax year 2019 -2020 is due for renewal immediately. Which means if you submit your return during the shutdown period; you will receive your Stamped Schedule-1 copy in your email (& Fax, if opted) only on or after July 22, 2019.
Tax Form 720:
This is a quarterly Federal Excise Tax, which is filed every 3 months and it is due now for the Quarter ending June 2019. PCORI that is filed only annually on the Q2 filing is also due this month. Indoor Tanning Taxes is one among the most used category reported electronically on Form 720. And any returns filed during this period will only be accepted by the IRS on or after July 22, 2019, we will send you the receipt acknowledgment as soon as IRS accepts your return.
WE RECOMMEND e-filing your tax returns before the shutdown begins. That being said, TODAY is your only opportunity to stay unaffected from the IRS downtime and get instant approval from the IRS within minutes.
Another great reason to e-file your tax return TODAY is the DISCOUNTED FEE with a FLAT 10% discount code "ONTIME2019".
All the above-mentioned Tax Forms can be e-filed by simply logging on to the www.taxexcise.com  / www.tax2290.com website and follow the prompt for a successful filing. Also, our tax experts are just one ring away from answering any questions you might have in regards to your filings. Rest assured, our Tax Experts would never let you go wrong!
Call us or write to us at 1-866-245-3918 / support@taxexcise.com for any suggestion and queries. You can also ping us on LIVE CHAT for assistance.