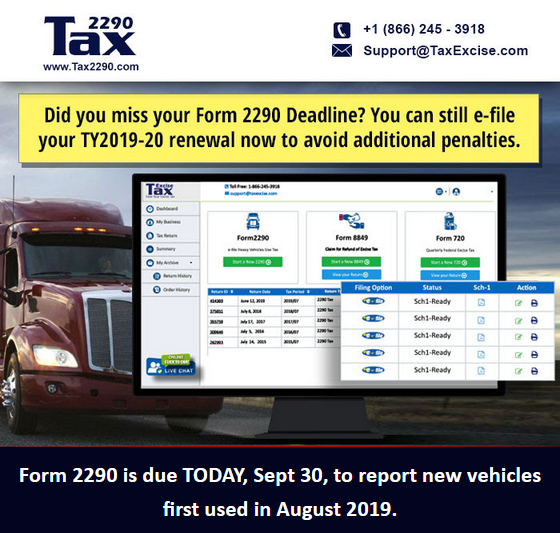 One of the constant words you tend to always hear when it comes to Form 2290 is the word "Deadlines". The deadline to file a Form 2290 is today Sept 30, 2019, for the vehicle first used in the month of August.
Now how would you know if you are supposed to file 2290 or if this deadline is applicable to you?
For any truck you purchased and put on the public highway, you are to report those truck on or before the end of the following month. So if you recently purchased a vehicle in the month of August, the deadline to file your Form 2290 would be September 30, anything beyond that date might lead to a late filing penalty and interest.
That being said if you have any pending returns, now is the time to file them and get yourself up to date with your filings. Even though you are late on filing your tax return, that does not mean you cannot file again; the sooner you file the better your chances of getting a reduced penalty and interest for late filing.
We at www.TaxExcise.com / www.Tax2290.com are here to make your filing process as smooth as possible with our high-end E-filing technology. All you need to do is to log on to our online application and follow the few simple steps to get your trucks reported today to the IRS online within minutes. By e-filing your Form 2290 with us, you are guaranteed of getting your stamped Schedule 1 copy within minutes which will be directly delivered to your email id.
Let us make your Form 2290 filing hassle-free, reach our Tax expert at (866) 245 – 3918 or leave us your phone number in the email: support@taxexcise.com and we will walk with you every step of the filing process. Share this and help your friends also to stay compliant! TODAY IS THE DEADLINE, ONLY A FEW MORE HOURS LEFT!