We at ThinkTrade, Inc. celebrate this Friendship Day (Friendship Day celebrations take place on the first Sunday of August every year, falls on August 7th) as a week long celebration and offering 10% flat off on the e-file fee. This promotional offer is valid till 7th August and avail it by apply the code "FRIENDSHIP16".
" Anybody can sympathise with the sufferings of a friend, but it requires a very fine nature to sympathise with a friend's success. "
Friendship is the most beautiful relationship on the earth. It is said that a true friend is hard to find. A true friend comes in our life with whom we can share our joy, pain, excitement and sorrows. To express and cherish this beautiful bond of friendship, we like to exchange friendship wishes and love with all our close pals (truckers). We also join you in this Friendship Day celebrations avail 10% flat off on your 2290 e-file fee by apply the code " FRIENDSHIP16 ".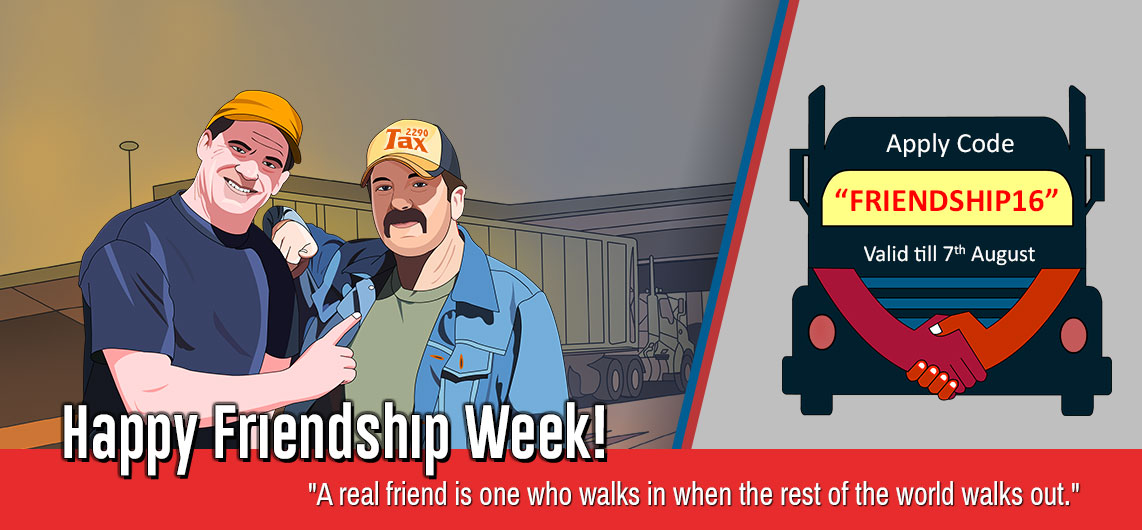 Now share your Friendship Day Wishes with your trucker friend with this offer/discount code, many of your trucker friends needs to renew their Form 2290 and Schedule-1 copies to get their vehicle registered with the state authorities. Should be a WOW gift to your best friends, a simple idea of honoring friendship.
Form 2290 E-file
The Federal heavy vehicle use tax form 2290 is due now and up for renewal. Anyone who registers or renew tag on a heavy highway motor vehicle in their name with a taxable gross weight of 55,000 pounds or more must file Form 2290, Heavy Highway Vehicle Use Tax Return.
You must e-file your Form 2290 if you are filing for 25 or more vehicles, however IRS encourages e-filing for anyone required to file Form 2290 and to receive quick delivery of their watermarked Schedule 1 receipts. With e-file, you'll get it almost immediately after IRS accepts your e-filed Form 2290. For vehicles first used on a public highway during July, file Form 2290 and pay the appropriate tax between July 1 and Aug. 31. The 2290 truck taxes need to be reported and paid in full by August 31st, to avoid late fee and penalties on missing deadlines.