2290 Truck Tax filing is now on Mobile and Flexible access from anywhere anytime. Instant access to your account and print you're stamped Schedule-1 proof on the move. Handy and Compact, carry it were ever you go.
This 2290 mobile app is designed to run on mobile devices such as smartphones and tablet computers. You just need to download and install our apps into your device to continue accessing it from any point. This is synchronized with the tax2290.com and taxexcise.com websites, once you install and access it with your account you could get close to all your returns that you filed from the website. Wow, awesome right, not only that this is available for Android and Apple iOS devices. Download our free mobile apps here
Smart mobile phones and tablet computer devices has turn the whole world into a small gadget, that can be carried with us were ever we go. With the advancement in technology we bring in the best of 2290 tax filing experience to your smart phone and tablet devices right away. Being the first to get e-file solution for 2290 truck tax returns, we bring the most user friendly featured mobile tax2290 app to your door step that enables 2290 tax e-file at anyplace. 
What you can do in this Tax2290 Mobile App?
You'll get all that you get in your website, and they are…
E-file your 2290 truck tax returns, 2290 tax Amendments, VIN Correction and 2290 tax Claims from one place.
You could very well apply all promo codes to avail the discounts and loyalty bonus points that you have accumulated while processing your previous returns.
You could very well subscribe for TEXT Alerts and FAX copies of Schedule-1 proof from your Tax2290 App
You could also choose seasonal/unlimited packages for filing your multiple returns through the tax season.
Download your IRS watermarked Schedule-1 receipt by accessing it anytime
Have handy access to your 2290 tax returns that you have filed with IRS
All your 2290 tax related needs at one place and that too compact and in your pockets. Download today for free and enjoy seamless service.
Downloading our mobile app is simple, just visit the play store and iTunes search for Tax2290 Mobile App, install it into your devices and start using it. Very useful to have it in your phone. We do have an all new Tax2290 Calculator (iOS and Android) for you to estimate your taxes in advance to avail some tax funds ready.
The Android version of Tax2290 App supports all most all version of Android OS from 4.3 available for free download at Google Play Store. The Android version has a new look and feel that would enhance your 2290 tax filing experience further and would take your comfort to next level. This is very easy and simple to use and does not required to have tax knowledge, the screen by screen questions would very well guide you with the process and help you complete in less time.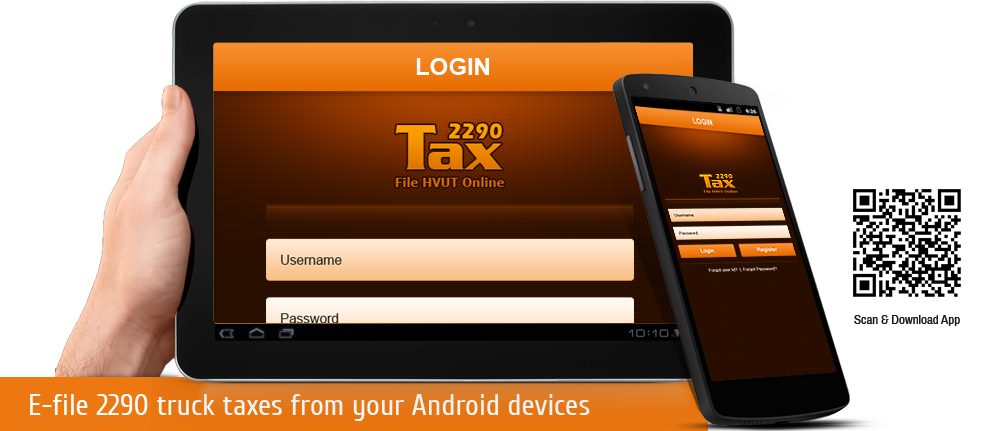 Tax2290 iOS app is only for the existing users; however you can create an account in our website to continue accessing this app. Supports from Apple iOS 7.0 or later, compatible with iPhone, iPad, and iPod touch 5. Tax2290 app helps you to zero down all possible human error in preparing and reporting 2290 taxes. It is Safe, Secured and Simple app to complete the tax return in minutes. To use Tax2290 app you does not require any tax knowledge, the app automatically walks you through the process step by step with guidance. Tax2290 iOS app comes handy for your smart phone to e-file 2290 taxes from anywhere anytime.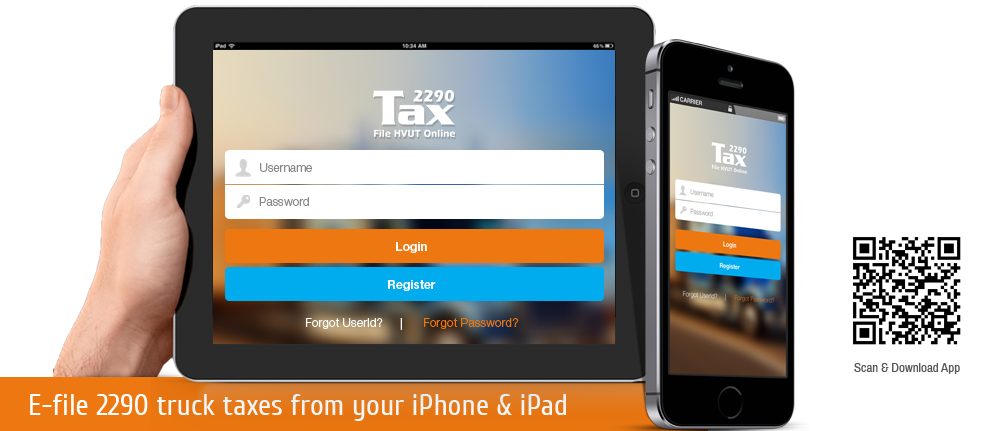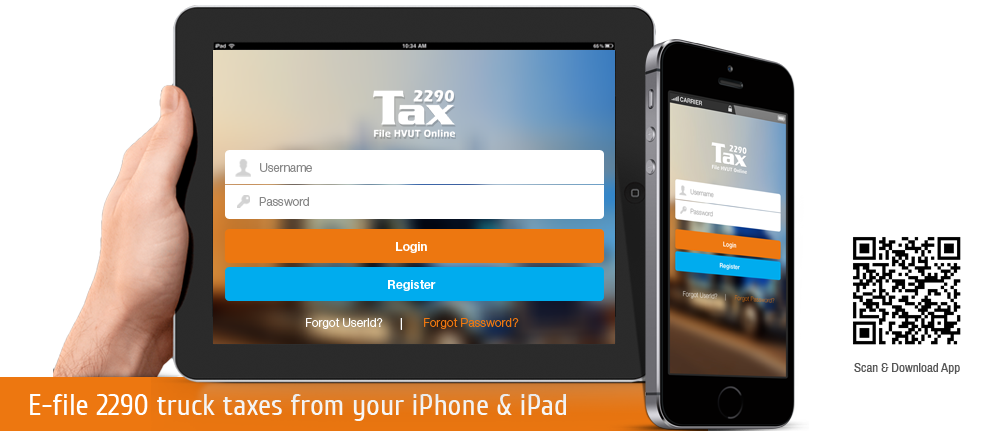 Getting start with 2290 e-file
To start with your 2290 truck tax e-file you need to have gathered couple of important information about your business and vehicle and they are…
Employer Identification Number. You cannot use your social security number. Don't have an EIN? Apply & allow two weeks for your new EIN to be established in IRS systems before filing.
Vehicle Identification Number of each vehicle.
Taxable gross weight of each vehicle and type of use
If opting for EFW (DIRECT DEBIT), then your bank account number, bank and routing number.
E-file is simple, easy and quick. We can walk you through the website screen-by-screen. Our tax experts will help you with your2290 related questions. Connect with us in (866) 245 – 3918 or simply write to us at support@taxexcise.com