Tax2290.com an IRS Authorized electronic filing service provider since 2007 is a product of ThinkTrade Inc and powered by TaxExcise.com. The most trusted online platform to complete and pay the Heavy Vehicle Use Tax returns with the IRS.
Ever since IRS mandated e-filing the highway heavy vehicle use tax form 2290 for truckers with 25 or more vehicles in their fleet, the need for form 2290 e-filing has been growing tremendously. And Tax2290.com provides a perfect online platform to e-file form 2290 online directly to the IRS smoothly. We are an IRS-approved online modern e-filing service provider, especially for federal excise taxes. Among all the other excise taxes, form 2290 truck tax has more filers, and the truckers can use our perfect platform to e-file form 2290 and get the schedule 1 copy on the go in their busy line work.  

Tax2290.com started specially to serve the trucking community of the United States, and it has been functioning as the best form 2290 tax e-filing platform for more than a decade now. The truckers benefit more and more from our platform to fulfil their form 2290 truck tax needs and e-file form 2290 tax online directly to the IRS.  
E-filing form 2290 is the best to report the truck taxes to the IRS. 
E-filing form 2290 online is the easiest and most secure way to report your yearly HVUT to the IRS. You can easily file form 2290 online as our Tax2290.com platform is simple and user-friendly. The platform offers you a step-by-step 2290 filing process where you can finish preparing the 2290 tax form and e-file it online in a few minutes. You can also bulk upload all your vehicles' information with an excel sheet and complete the entire e-file 2290 process for many numbers of vehicles within a few minutes.  
IRS form 2290 e-filing is made affordable at Tax2290.com. You don't have to spend much on 2290 e-filing services. Instead, we have pocket-friendly prices and economical packages for IRS 2290 filing for a large fleet of trucks. It is the most trusted platform for hundreds and thousands of truckers and trucking business people in America.  
Tax2290.com is for all the Truckers! 
We are happily serving all types of truckers in the United States to e-file form 2290 online like owner-operators, small/mid-range trucking companies, and trucking corporates. We serve all the truckers based on the form 2290 road tax needs. Truckers and their tax preparers can not only e-file form 2290 online but also can apply for VIN correction, report amendments, and e-file refund claims to the IRS easily at Tax2290.com. You can get the IRS stamped schedule 1 copy straight to your email when the IRS processes your form 2290 reports.  
So, e-file IRS 2290 form for this tax year 2021 – 22 at Tax2290.com at affordable prices and stay ahead of 2290 road tax deadlines. Save a lot of time and money now! for assistance talk to our expert support desk at (866) 245 – 3918 and write to us at support@taxexcise.com.
---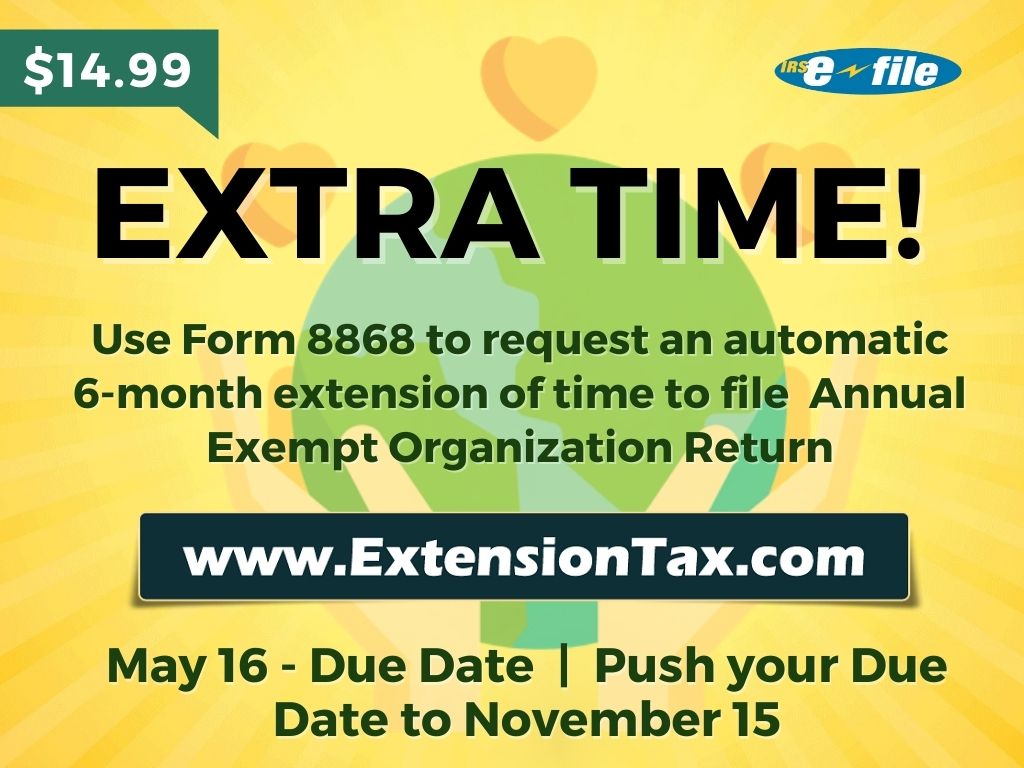 The Tax Exempt Organizations have until May 16, 2022 to complete the return with the IRS and if you need extra time then apply for extension of time today at ExtensionTax.com.