Dear truckers! Tax2290.com takes this opportunity to wish all our customers, users, and trucking taxpayers a very happy thanksgiving 2022. We heartily thank you for your constant support. We assure you that we will keep innovating new features to improve our services that help e-file form 2290 HVUT online much smoother and faster.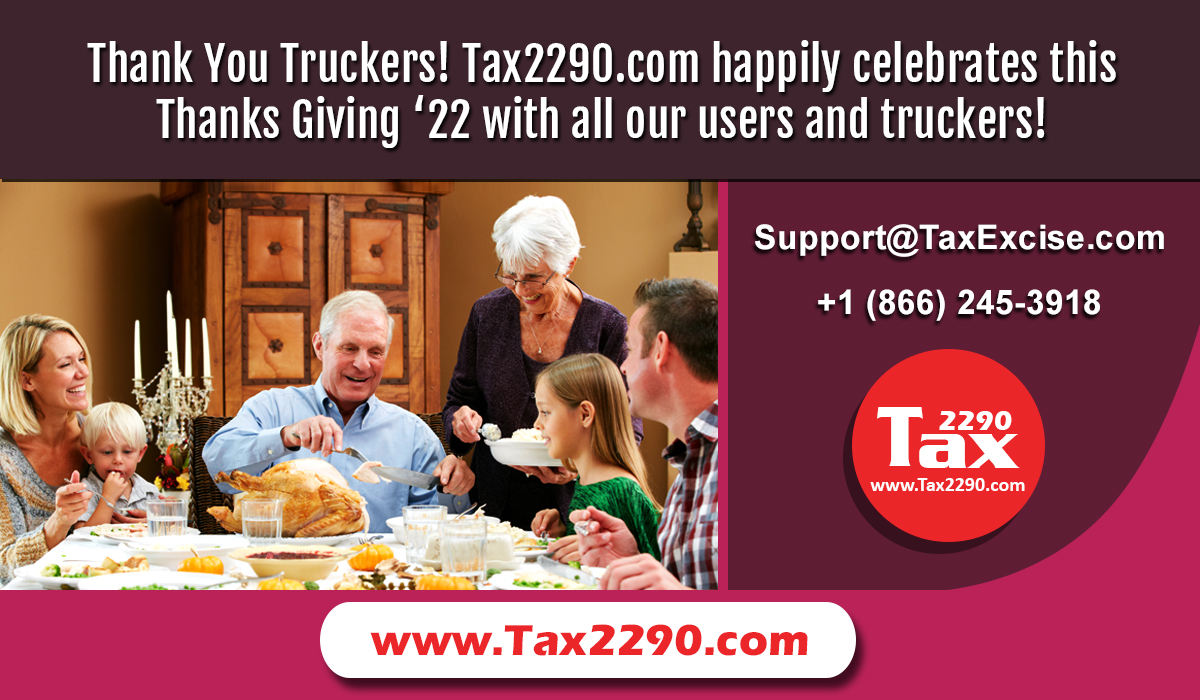 E-file form 2290 HVUT at Tax2290.com!
Tax2290.com restructured the form 2290 filing method with our modern technology and innovations. You don't have to paper file your form 2290 truck taxes by visiting the IRS office directly or mail form 2290 to the IRS and wait for a few weeks to receive your IRS stamped schedule 1 copy. You can register for free at Tax2290.com and e-file form 2290 HVUT from the comfort of your home/office using your smartphones or PCs. Tax2290.com offers a smooth online portal with a user-friendly interface where you can follow the steps to prepare your tax returns online and transmit the tax returns directly to the IRS. Once the IRS receives your 2290 tax returns, they will process them immediately and send your digitally stamped schedule 1 copy straight to your registered email address. Form 2290 online e-filing is the most effective way to report the 2290 truck taxes to the IRS, pay the tax dues, get the stamped schedule 1 copy and continue your trucking operations on public highways smoothly.
Tax2290.com offers the best form 2290 online e-filing services.
Also, the 2290 e-filing method is easy for the IRS to process the tax returns because it is fully automatic, and the chances of making any error are absolutely zero. Therefore, they will instantly process your 2290 tax reports and send back your digitally stamped schedule 1 copy. If you made any mistakes in your form 2290 tax reports, you can e-file form 2290 again with the corrected information and get back the right schedule 1 copy at the same speed. Also, Tax2290.com supports form 2290 online VIN correction; you can apply for VIN correction online and get back the revised schedule 1 copy with the correct VIN number of your heavy vehicle. Tax2290.com also supports form 2290 amendments filing and form 8849 schedule 6 credit and refund claims over your previously paid 2290 truck taxes. You can adjust your tax credits and pay your dues accordingly at Tax2290.com.
Smoothly pay your form 2290 tax payment online.
Tax2290.com supports all IRS-approved online tax payment methods. You can e-file your 2290 HVUT reports and pay your tax amount online at Tax2290.com. We give pocket-friendly form 2290 e-filing services. Our price range starts from just $29.99 for e-filing form 2290 for a single vehicle. Also, you can avail of our package and seasonal prices to save money on your bulk filings. We also offer the best customer support to guide you in all your form 2290 e-filing and tax-related queries. Contact our customer support team at+1 (866) 245 – 3918 or support@taxexcise.com.