Hello, truckers! Tax2290.com is making form 2290 HVUT filing easier and accessible through an electronic filing system where you can e-file form 2290 online directly to the IRS in our platform. We made 2290 truck tax report preparation and filing a smooth, accurate, and complete do-it-yourself process. You don't need any expert guidance to prepare your tax reports; you can do it all by yourself by just following our step-by-step online e-filing process. You can easily prepare your tax reports, estimate your tax dues and transmit your 2290 returns to the IRS. They will process your 2290 reports and issue the digitally stamped schedule 1 copy to your registered email address. The entire form 2290 e-file process is cheap, and you can save a lot of time too.
Tax2290.com also allows you to pay your tax dues directly to the IRS through IRS-approved online payment methods.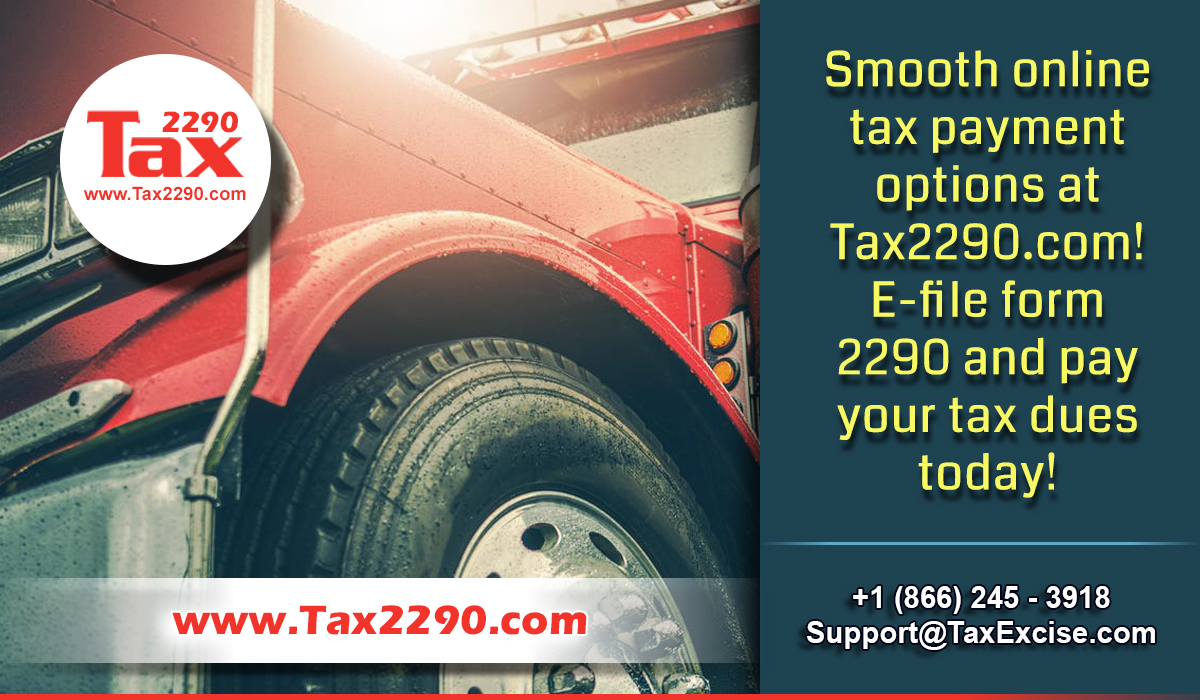 Electronic Federal Tax Payment System (EFTPS)
EFTPS is a free online tax payment service provided by the United States Department of Treasury through a highly secured and encrypted government–operated website. All taxpayers, like business taxpayers and individual taxpayers like truck drivers and owner-operators, can pay form 2290 truck taxes online using the EFTPS system safely. You must enroll in EFTPS to pay 2290 tax dues online and get your credentials. You can use EFTPS to pay your taxes online anytime you want and stay ahead of the tax deadlines.
Electronic Funds Withdrawal
EFW is also called as 'Direct Debit' method, where you can pay your form 2290 truck tax dues directly from your bank account. You can use a checking or savings account to pay your truck taxes using the EFW method. It is the most convenient way to pay your form 2290 truck taxes online, where you can pay your dues in a single step. You don't need to submit a separate voucher for this payment. Electronic Funds Withdrawal (EFW) is an integrated online payment option offered when e-filing HVUT form 2290 through e-filing service providers like Tax2290.com. You can submit one or more payment requests for direct debit from your designated bank account using the EFW payment method.
Credit/Debit Card Payment
IRS accepts all major credit/debit cards. You can process the form 2290 tax payment using your smartphones, personal computers, or through any e-filing service. You can use credit or debit cards like American Express, VISA, Master Card, or Discover Cards to pay your form 2290 HVUT dues online. Your payment will be processed by a service provider or a licensed payment processor who will charge a processing fee based on your overall tax amount. The processing charges vary from one service provider to the other, and you are advised to choose accordingly. Usually, you will be charged 2% of your total 2290 tax amount as service fees by the licensed payment processor.
Check or Money Order
You can e-file form 2290 truck taxes at Tax2290.com and choose to send your tax payment through a check or money order to the IRS/US treasury. You must make your check or money order payable to the US treasury department, containing your business name, address, contact information, Employer Identification Number (EIN), tax year, and 2290 tax-related voucher. Then, you must mail it to the address on the instruction or tax form 2290.