Hello, truckers! Due to last year's pandemic, the world has been moved to a different approach of no-contact ventures and online enterprises to carry out businesses. And these online services are proven fruitful for everybody to perform their day-to-day activities without a sweat. Likewise, reporting your form 2290 HVUT has also been made online, and many truckers are choosing to e-file form 2290 online to report their HVUT truck taxes to the IRS. Also, the IRS made form 2290 e-filing mandatory for the truckers reporting form 2290 for 25 and more heavy vehicles. And they encourage all truckers to e-file form 2290 online through an IRS-approved form 2290 e-filing service provider since electronic filing is simple, effective, and accurate. The E-filing method allows the IRS to process the 2290 tax returns and issue the schedule 1 copy as proof of tax payment.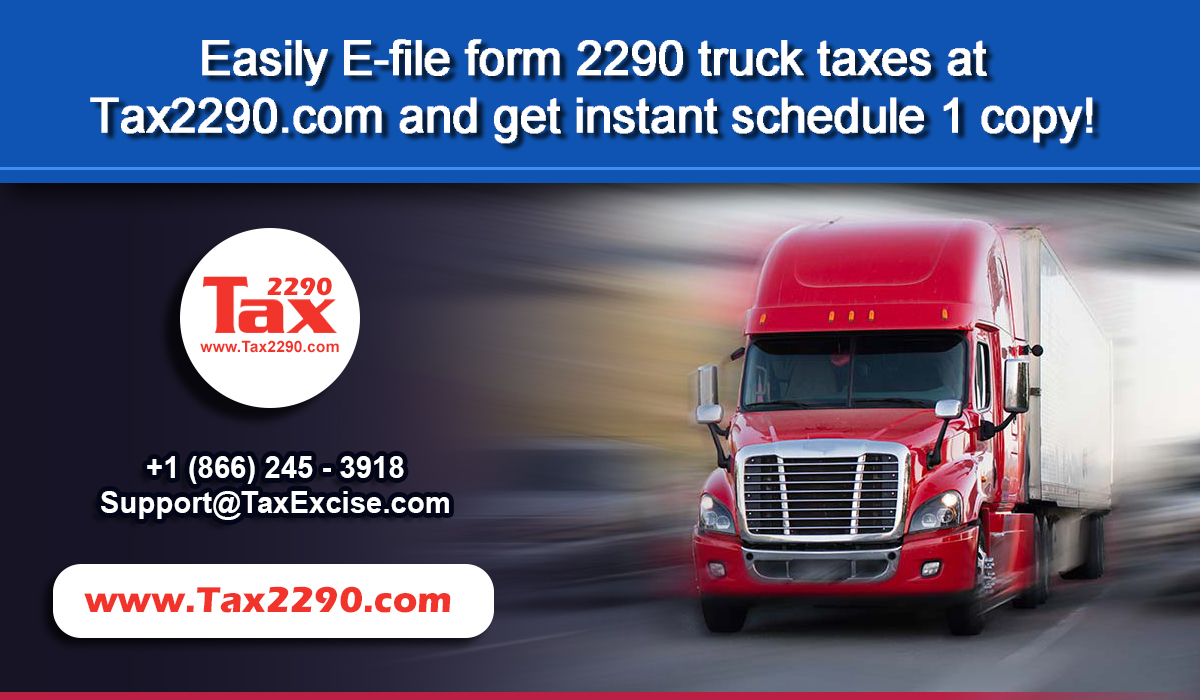 Tax2290.com is the best place to e-file form 2290 online.
Tax2290.com is an IRS-approved form 2290 online e-filing service provider. And we are serving millions of truckers and trucking taxpayers as the best online platform to e-file form 2290 online effectively. Therefore, you can benefit highly by e-filing form 2290 online at Tax2290.com. We provide the easiest and safest way to report your truck taxes online directly to the IRS.
Tax2290.com offers a simple, user-friendly interface that takes you through a step-by-step form 2290 e-filing process. You can complete the entire tax returns preparation and transmit form 2290 returns to the IRS within a few steps in just a few minutes. Form 2290 e-filing won't take much time to complete. Also, the IRS will process your 2290 returns and send you the digitally stamped/watermarked Schedule 1 receipt directly to your registered email address. You don't have to wait in line for your turn to report your taxes to the IRS. You can e-file form 2290 HVUT online at Tax2290.com from the comfort of your home or office anytime you want. Our platform is available 24/7.
Get exclusive features to e-file form 2290 effectively!
Tax2290.com provides a lot of innovative features to make your form 2290 e-filing process much simpler. You can e-file form 2290 truck taxes for your entire fleet at a time; you should check out our bulk vehicle information upload feature, which allows you to upload multiple heavy vehicle information through an excel sheet. You can e-file form 2290 for your entire fleet quickly and accurately by using this feature at Tax2290.com. Our platform will save every piece of information you enter so that you don't need to type your business information again and again, and you may clone or import data from your previous e-file to save more time at Tax2290.com. Like these features, Tax2290.com offers many facilities to make your form 2290 online e-filing process effective and efficient.
Tax2290.com gives pocket-friendly form 2290 e-filing services. Our price range starts from just $29.99 for e-filing form 2290 for a single vehicle. Also, you can avail of our package and seasonal prices to save money on your bulk filings. We also offer the best customer support to guide you in all your form 2290 e-filing and tax-related queries. Contact our customer support team at+1 (866) 245 – 3918 or write to us at support@taxexcise.com.