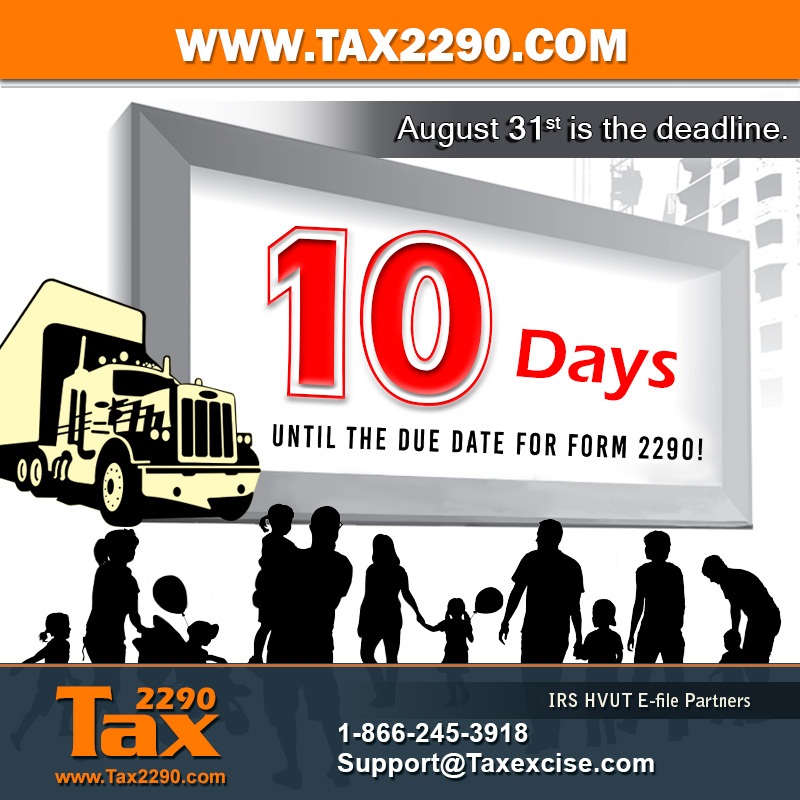 Dear Truckers and Trucking Industry folks, we all know this is that time of the Year when we renew Our Heavy highway Vehicle Use tax Form 2290 for Tax Year 2017 – 2018. As a well known fact the IRS gives us ample time to file this Form, two months i.e. July & August. August 31st is the due date to file HVUT Form 2290 for tax Year 2017 – 2018.
Hope you noted that, we only have 10 Days left including Today August 22nd and the weekends. If you are thinking of walking into local IRS Office in the left 8 working days, that is close to impossible because These days you have to schedule an appointment before you step in to their premises to File Form 2290.
You don't need Ten days all you need is 10 Minutes to E-file Heavy Highway Use Tax Form 2290, through www.Tax2290.com , you can reach our tax Experts for any assistance any day till August 31st , Yes Including weekends @ 1-866-245-3918 or write to them @ support@taxexcise.com you can even chat with them using the LIVE CHAT Option on the Website.
AVOID LAST MINUTE RUSH, IT WILL BE LIKE THOUSANDS OF TRUCKS TRYING TO OVERTAKE EACH OTHER IN A ONE WAY LANE.