Truckers are now bringing their mobile devices with them everywhere, and no matter where they are they can get access to what ever they wanted to do. How about having a mobile app that can be readily available to access the IRS watermarked Schedule 1 Proof copy when ever it is asked for. Yes, when you've filed your 2290 tax returns electronically through Tax2290.com, this Tax2290 Mobile App could be handy to get a copy of the Schedule 1 proof in your mobile where ever you are. In short, we can help you to report and pay the federal vehicle use tax returns using your smart mobile phone by downloading our Tax2290 Mobile Apps for both Android and iOS platforms. Pull out your IRS watermarked stamped copy from your mobile by accessing our Tax2290 Mobile App.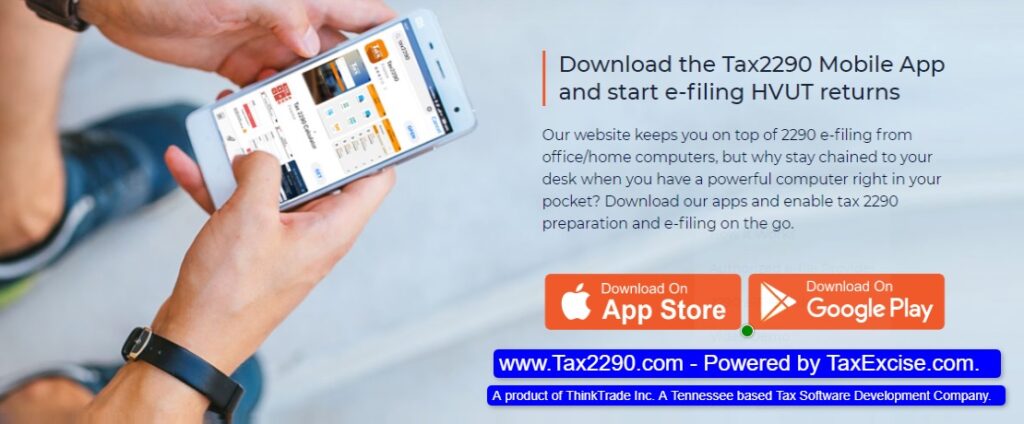 Digital discovery is critical and terrifying, with Mobile Apps now everything is possible for a Trucker to manage all kinds of information is at your fingertips. Federal Heavy Vehicle Use Tax reporting is also at finger tips and saves a lot of time and money. Tax2290 Mobile App is like the website easy to use and fast, just a couple of steps to complete and the tax preparation is done. Verify the data and submit it electronically with the IRS. In minutes get a status update and receive your IRS watermarked Schedule 1 copy instantly.
Do – IT – Yourself : Tax 2290 Electronic Filing
ThinkTrade Inc the tax software development company, that owns and operated Tax2290.com and TaxExcise.com echo's Do – It – Yourself model from day one. Since 2007 we're working with the Truckers and helping them to report and pay the federal vehicle use taxes online and receive the IRS watermarked Schedule 1 copies instantly. There are too many benefits when you take care of your tax reporting by yourself, one important take away is save a lot of time and money which can be rightly invested into your business.
What you can do with Tax2290 Mobile Apps:
There could be a lot of questions and one important would be how this is helpful for a trucker. Tax2290 Mobile App can help you on many tax services and they are;
Report and pay the Federal HVUT – Form 2290 returns on time.
Receive IRS watermarked schedule 1 proof copies instantly.
Paying the Federal heavy vehicle use taxes online, using Direct Debit or EFTPS.
Record keeping your Tax 2290 PDF Form, Schedule 1 Copy and other truck data.
Quick access to a Tax2290 Tax Calculator to estimate the taxes
Report Form 2290 Amendments and Form 2290 VIN Corrections when ever it is needed.
Report the refund credits (tax2290 refunds) that you owe on your sold or traded vehicles, low mileage vehicles and suspended vehicles.
Quick connect to our support desk by phone, email or by chat for an instant help.
No need to look out for an internet parlor when you need a copy of your stamped schedule 1. Show it from your mobile app and print it right away.
No need of scheduling appointments with downtown IRS Office to make your 2290 tax payments.
It is magical, you get all 2290 related service at your finger tips when you have Tax2290 Mobile App. Download it from here.
---
Form 2290 is now Due for vehicles first used in the month of December 2020 since July. January 31 is the deadline and that is pushed to February 1, 2021. Try electronic filing and receive the IRS watermarked schedule 1 proof copy instantly. Talk to us at 866 – 245 – 3919 or write to us at support@taxexcise.com.