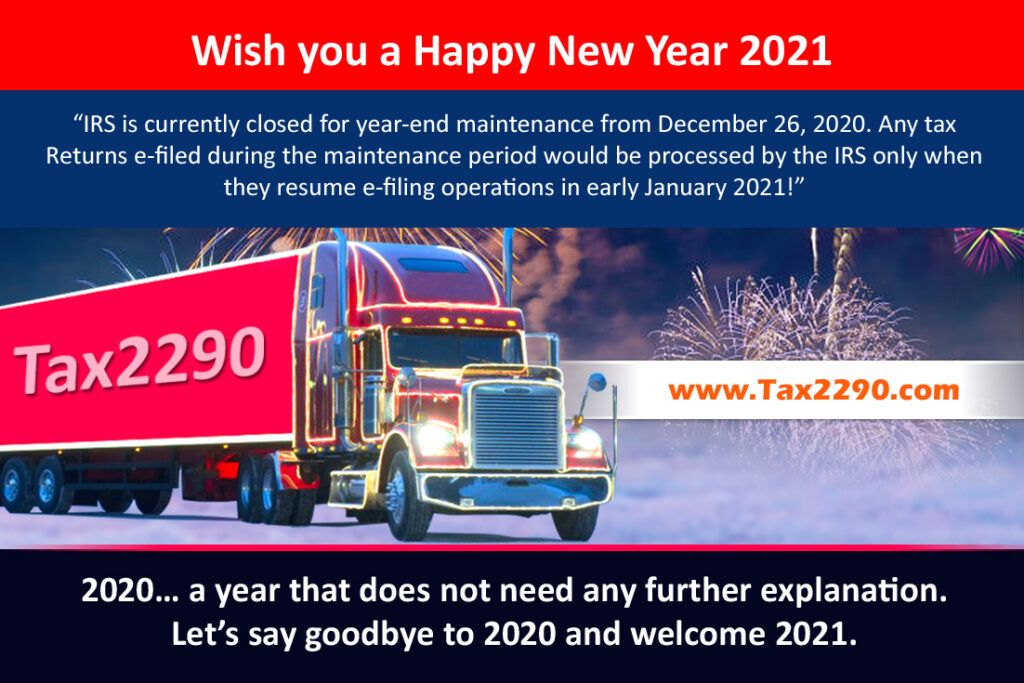 We have been through an unpredictable ride in 2020 that had made living life quite hard for people across the globe. But as we end the year, let us leave behind the bad memories and embrace the new year, 2021, with much-needed hopes and happiness.
With the New Year ahead of us we tend to get excited as it marks a new beginning and enables us to start with a clean slate with new goals, dreams, and resolutions. Here's to a bright New Year and a fond farewell to the old. May all your heart's desires come true.
As we step into another year we at Tax2290.com would like to thank everyone who kept moving our Great Nation forward during this pandemic. Wishing you a Happy and Healthy New Year. May this New Year Bless you with Good Health, Wealth, Happiness and much more miles to cover.
We Would also like to keep you reminded that the IRS is Shutdown for year End maintenance and returns filed on or before December 26th will only be processed after services resume by the second week of the Upcoming New Year.
For any tax related questions feel free to reach our help desk. Though the IRS services would be closed during the shutdown period we @ Tax2290.com would be fully operational Monday through Friday (excluding federal holidays) from 8am to 6pm Central time. Our three way line of communication allows you to speak to us by phone @ 866-245-3918 or write to us at support@taxexcise.com, to have your questions answered instantly do also try out the LIVE CHAT option available on the Website.