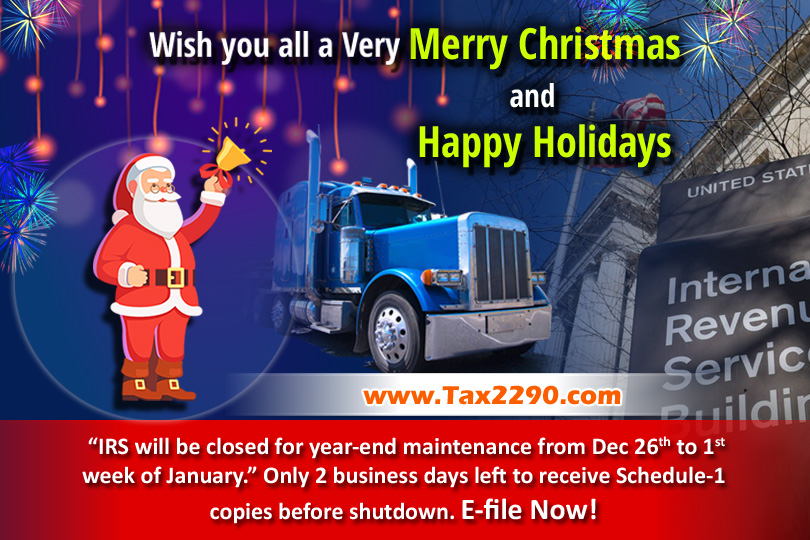 For Christmas, all roads lead home, Our Santa's have been good to us all year round and we would like to wish them a Very Merry Christmas. May this festive season sparkle and shine, may all of your wishes and dreams come true, and may you feel this happiness all year round. Merry Christmas!
A message to all our Santa's, to be in business this Christmas be sure to have the pro-rated IRS Form 2290 completed to stay compliant with the IRS. Although the IRS states that your pro-rated Form 2290 is due by December 31st for new vehicles first used in November, we strongly recommend that you file before the Christmas holidays begin as the IRS E-file services will not be operational from December 26th until the first week of January.
The IRS may not be available to assist you during this shutdown period however any tax return filed during the Shutdown/Cutover time will be held securely in our servers and the IRS stamped Schedule-1 copy will be made available once the IRS is up and running. Hence do E-file before December 25th if you do require the Schedule-1 copy.
Never missed out on any upcoming deadlines, act fast and file your returns on time to avoid paying extra on top of your tax as penalties and interests along with late filing charges. You might also be wondering about how to complete this form before the deadline.
We are always interested in suggestions that would allow us to improve upon our already high standards and encourage you to submit your thoughts here: https://g.page/Tax2290/review Our Tax Experts at www.TaxExcise.com / www.Tax2290.com will also be available to assist you even during the Production cutover time. For any support feel free to use our three-way line of communication, you can reach us at 866 – 245 – 3918 or write to us at support@taxexcise.com, LIVE CHAT support is also available that allows you to connect with our agents and get your questions answered instantly.
Stay safe and Keep the Gifts Coming!