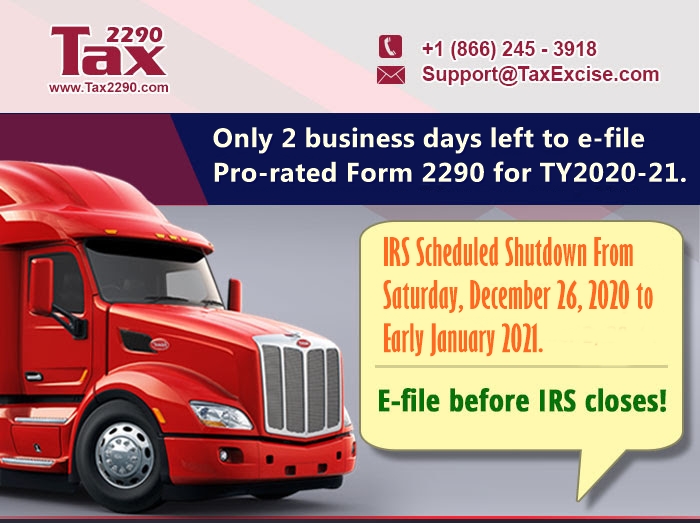 Like many great things, Christmas would not be possible without trucking. With truckers transporting gifts and seasonal essentials and with the holiday season just a week away we would like to keep our Santa's on the road reminded you to have the Pro-rated HVUT Form 2290 Completed before the deadline.
The deadline to file Form 2290 for vehicles first used or put into service in November is December 31, 2020. As the IRS E-file services would be closed for year-end maintenance, any return transmitted during the shutdown period beginning December 26th will only be processed once the IRS is operational sometime during the first week of January 2021. Since the deadline is the last day of the month, you will need to file your HVUT Form 2290 before the shutdown in order to receive your watermarked stamped schedule-1 copies on time.
The stamped copy you receive plays a vital role in renewing your license plates, if your return is received or processed late due to the shutdown there is a high possibility that you might receive penalties for late filing with interest. So be sure to stay compliant with the IRS and have the Pro-rated Form 2290 completed at the earliest.
For any tax-related questions feel free to reach our fully operational help desk. Though the IRS services would be closed during the shutdown period we @ TaxExcise.com would be fully operational Monday through Friday (excluding federal holidays) from 8am to 6pm Central time. Our three-way line of communication allows you to speak to us by phone @ 866-245-3918 or write to us at support@taxexcise.com, to have your questions answered instantly, do also try out the LIVE CHAT option available on the Website.