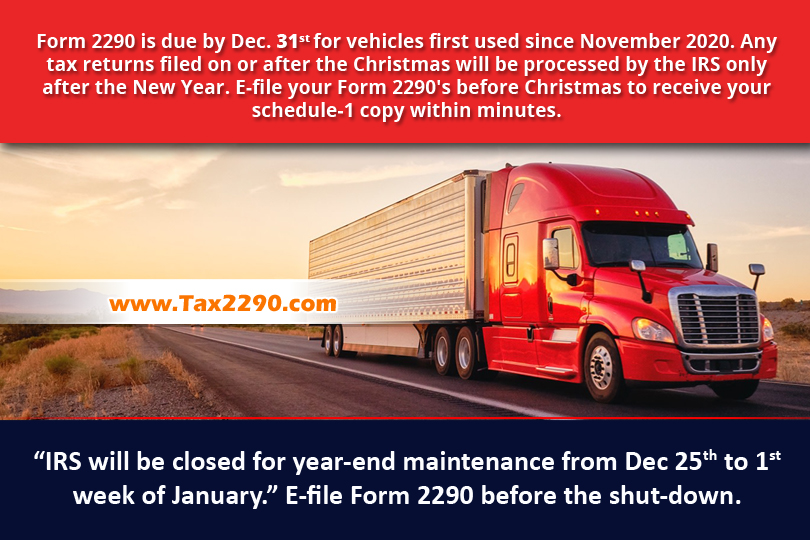 It's that time of the year again and it's already beginning to look a lot like Christmas 🎅🏼, with the holiday season just a few weeks away we would also like to keep you reminded that the IRS E-file services would be closed for year-end maintenance, any return transmitted during the shutdown period beginning from December 25th will only be processed once the IRS is operational sometime in the first week of January 2020. The shutdown period would begin at 11:59 a.m. Eastern time, Saturday, December 26, 2020, to prepare the system/servers for the upcoming 2021 Filing Season.
For users that have a new vehicle that was purchased or started services during November be sure to have your 2290 completed before the IRS services are closed, the deadline to report these vehicles are December 31st and due to the year-end sever maintenance be sure to have these vehicle reported before Christmas.
Though the IRS services would be closed during the shutdown period we @ TaxExcise.com would be fully operational Monday through Friday (excluding federal holidays) from 8am to 6pm Central time. Being the only decade old provider we do understand the needs of our customers and make sure our services are beyond exceptional. Our three-way line of communication allows you to speak to us by phone @ 866-245-3918 or write to us at support@taxexcise.com, to have your questions answered instantly do also try out the LIVE CHAT option available on the Website.
May this season bring you hope and the everlasting joy of the Christmas spirit. Happy Trucking.