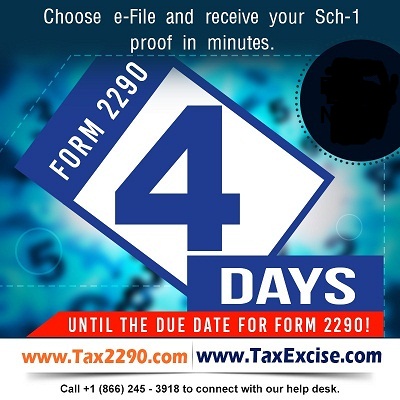 Truckers & Trucking Companies! We understand the Fact that you all are held up with thousands of work to take care of. Though it's hard to digest, we www.Tax2290.com / www.TaxExcise.com – Products of ThinkTrade Inc, have to remind you about another Task which if not done on time could halt your business completely.
We are pretty sure that you all would have filed your Form 2290 for Tax Year 2017 – 2018 already and are under the assumption that you don't have to file it until next year. Unfortunately if you are one among the one who has such thoughts, please erase it of your memory, It's true that Heavy Highway Vehicle Use Tax Form 2290 is due for Annual Renewal Every Year by the August, however if in case you have purchased a new Vehicle or bought a Vehicle into service in the Month of August then you are due for a Form 2290 NOW!
As the ONLY DECADE OLD & THE FIRST EVER IRS Authorized E-file Service Provider for E-filing Federal Excise Tax Form 2290 (HVUT), we consider this as our responsibility to remind every individual involved in Trucking Business about the upcoming September 30th Deadline for vehicle first used in the Month of August.
Reach our Tax Experts @ 1-866-245-3918 or write to them @ support@taxexcise.com or you can even chat with them using the LIVE CHAT option on the website for any Assistance with your Excise Tax E-filing.