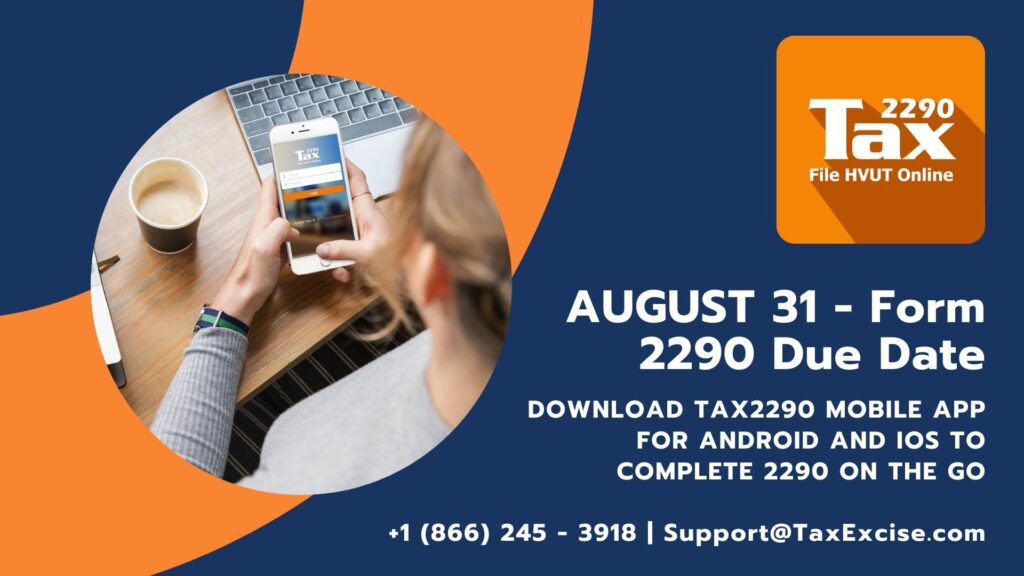 Truck Tax Form 2290, heavy vehicle use tax returns is now due for the Tax Year July 2020 through June 2021, electronic filing could get your IRS stamped Schedule-1 proof in just minutes from IRS. Easy, safe and secured filing only at Tax2290.com. Truckers, owner operators, mom and pop truckers and heavy haulers who own and operated a heavy motor vehicle with 55,000 lbs and more need to report vehicle use tax Form 2290 on vehicles put to use on public highways from July 2020. Form 2290 must be filed for the month the taxable vehicle is first used on public highways during the tax period.
Electronic Filing and IRS Watermarked Schedule 1 Proof
Every trucker or owner operator is insisted to avail the benefits of electronic filing as it is the fasted way of getting your return processed by the IRS, the stamped schedule-1 proof is made available immediately to your inbox.
Electronic filing or E-File is required for reporting IRS Form 2290 and paying taxes on 25 vehicles or more in a tax return. However, all taxpayers are encouraged to file electronically as it allows for quicker processing of your 2290 tax return. When e-filed a stamped Schedule 1 proof can be available within minutes after filing and acceptance by the IRS.
August 31 and Deadline for 2290 Tax Payments
The IRS expecting the truckers who has to report 2290 taxes have to make a payment by August 31, 2020 on heavy vehicles that is used on a highway in July, 2020. The IRS watermarked Schedule 1 acts as a Proof of Payment to have the heavy motor vehicle registered with the federal agencies.
What you need to Kick Start your 2290 efile for 2020 – 2021 tax period.
The Employer Identification Number (EIN)
The Vehicle Identification Number (VIN) and its Taxable Gross Weight (depends on the vehicle if you owe taxes)
The tax payment options, choose between EFTPS, EFW.
Tax2290 Amendment and VIN Correction
There could be some changes on the Taxable Gross Weight and Mileage Use Limit, from the original 2290 tax return which is needed to have updated with the IRS then efile 2290 Amendments. For VIN typo's correct it online through 2290 VIN Correction.
---

---
Tax2290 Calculator Web and Mobile App
Give it a try to our Tax2290 Calculator for both Android and iOS apps to estimate the 2290 taxes you might owe for your heavy motor vehicle, this is a utility app and absolutely free of cost, download today.
Tax2290 eFile Mobile App – Android & iOS Platform
Try out Tax2290 Android and Tax2290 iPhone/ iPad App to complete 2290 Prefile for the new Tax Period 2020 – 2021, save 10% by apply the coupon codes "ANDROID2290" and "IOS2290" respectively. Tax2290 Mobile apps brings you the comfort of filing your vehicle use taxes without leaving your couch, from anywhere anytime. Check out our App Store for new and updated apps for efiling federal tax returns.
Tax2290 Call and Chat Support Desk
Our Support Desk Experts are there to help you through your filing process, feel free to connect with us in Phone at 866 – 245 – 3918 or by email at support@taxexcise.com. We're also there in Chat, just click the chat icon on the website to connect for an instant support.