Form 22290 the Federal Vehicle Use Tax returns filing period is July 2020 through June 2021. The Form 2290 tax filing season started on July 1, 2020. The IRS started processing the 2290 tax returns and urged the Truckers to choose electronic filing. The IRS is reminding truckers and other owners of heavy highway motor vehicles that in most cases, their federal heavy highway use tax return reported on Form 2290 is due on August 31, 2020. Choose electronic filing for faster processing and secured filing.
Tax Form 2290 when electronically prepared and reported through Tax2290.com, it is easy, safe and quick. IRS will receive your returns and process it faster; issues you back the stamped Schedule-1 instantly after accepting it. Electronic filing eliminated possible human errors, does automatic math and transmits your return directly to the IRS. The fastest way of filing your 2290 truck tax returns is only when you e-file with Tax2290.com.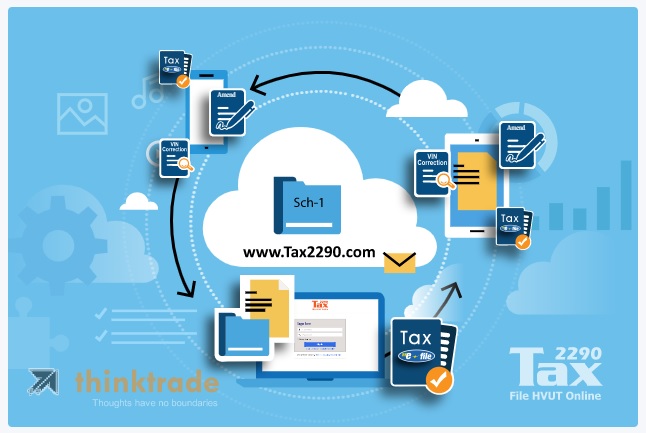 Why to e-File 2290 with Tax2290.com?
As like every year August 31 is the due date and there won't be any extension further, this year August 31 is the deadline. This generally applies to Form 2290 and the accompanying tax payment for the tax year that begins on July 1, and ends on June 30. Returns must be filed and tax payments made by August 31 for vehicles used on the road during July. For vehicles first used after July, the deadline is the last day of the month following the month of first use.
Though some taxpayers have the option of filing Form 2290 on paper, the IRS encourages all taxpayers to take advantage of the speed and convenience of filing this form electronically and paying any tax due electronically. Taxpayers reporting 25 or more vehicles must e-file. Here are the benefit that you could enjoy by choosing e-file;
The IRS Stamped Schedule-1 proof will be made available in just minutes once Irs accepts
No math required, as the website will take care of all tax calculation automatically
100% Accurate, 100% Simple and 100% Easy, hassle free filing experience
Get Instant TEXT Alert in your cell phone once IRS completes processing your tax return
Receive IRS Stamped Schedule-1 by FAX
Automatic process, register in the website, keep entering the data one by one. Your 2290 is ready.
E-filed returns are processed faster than the manually or paper filed returns
No more standing in Line at any local IRS office to file or blocking appointments to pay 2290s
Comfortable filing from your office or home computer, smartphones and tablet devices
Download our FREE iOS App and Android App to try e-filing On-The-Go
Download our FREE Android Tax Calculator App to estimate how much you owe as tax before you prepare filing
You get a Free 2290 Help and Support till you complete your tax return online and collect your stamped Schedule-1 proof instantly
Any time you can download the copies from our website, call us we would fax it to you.
Record Keeping is FREE. We manage your tax return, Schedule-1 copies for minimum of 3 years and for longer period.
E-file is available 24/7 a day, 7 days a week & 365 days in a year.
E-file is also possible for the previous year's tax returns
Electronic filing is by and large the best way of reporting 2290 heavy vehicle use tax returns with the IRS and through TaxExcise.com you get the best available resources. The most trusted and rated website since 2007.
Call us at 1-866-245-3918 or mail us at support@TaxExcise.comfor any suggestion and queries. Rest assured, our Tax Experts would never let you go wrong!
---
Tax2290 Mobile App – Android and iOS
Download our Tax2290 Mobile App for both Android and iOS platforms give you the comfort of filing 2290 taxes by yourself, from where ever and anytime. We have the capability to process the 2290 Tax returns around the day, 7 days week and including weekends.
No hassles download the Tax2290 Mobile App for your smartphone and tablet devices Today.