There comes a time when you are on the road and have to choose between turning pages, looking through paper returns, and finding a way to submit tax forms the old school way. Considering your busy schedule filing out tax returns would be pretty time consuming, to make things simple Tax2290 Mobile apps brings you the comfort of filing the Heavy vehicle use taxes without leaving your call of duty. For a hassle-free experience E-file with ease just by using your mobile phone or tablet. Do try out our App Store for new and updated apps for electronically reporting federal tax returns.
Tax2290 Mobile App – Android and iOS
Download our Tax2290 Mobile App for both Android and iOS platforms give you the comfort of filing 2290 taxes by yourself, from where ever and anytime.
No hassles download the Tax2290 Mobile App for your smartphone and tablet devices Today.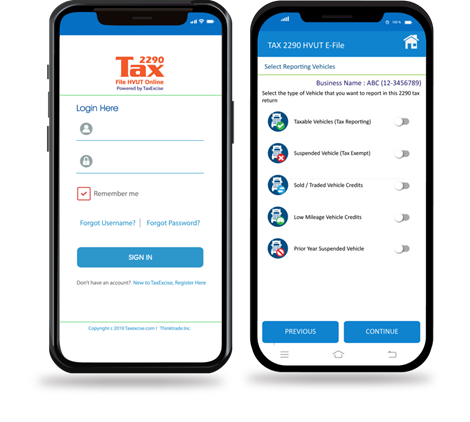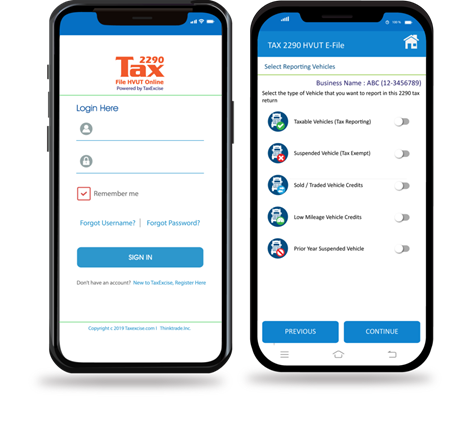 Electronically reporting tax returns has always been the preferred option as it helps you receive your stamped proof within a few minutes. For users who have purchased a new vehicle or have started using their vehicle in the month of October do note that the deadline to have the HVUT Form 2290 filed is November 30th. Failure to file before the due date will result in penalties from the IRS.
Choose electronic filing for faster processing and secured filing. Though some taxpayers have the option of filing Form 2290 on paper, the IRS encourages all taxpayers to take advantage of the speed and convenience of tax due electronically.
For any added support, questions or doubts feel free to use our three-way line of communication, you can reach us at 866 – 245 – 3918 or write to us at support@taxexcise.com, LIVE CHAT support is also available that allows you to connect with our agents and get your questions answered instantly. Stay Safe, Stay Compliant, Happy Trucking!!