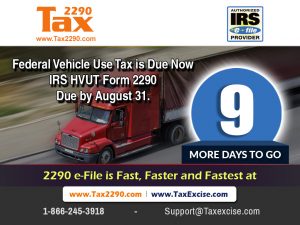 The IRS provides complete two months that is July & August to renew Tax Form 2290 for the Tax Year, in total one gets a total of 62 days to renew their Heavy Highway Vehicle Use Tax Form 2290. If you have not renewed your HVUT for the Current Tax Year 2018 – 2019 yet, it means you have only 9 days including today and the upcoming Weekend to renew the HVUT Form 2290 For the Tax Year 2018 – 2019.
Since you have very limited time of 9 days (7 working Days) including today, the probability of filing the Form 2290 by walking into local IRS office and Mailing the return is close to impossible. Hence you have only but the best option left behind to file your HVUT for Tax Year 2018 – 2019 on or before August 31st, i.e. E-filing Form 2290 through www.Tax2290.com This way you get your stamped proof for Filing known as Stamped Schedule 1 within minutes. Also the E-filing process takes only 30 minutes.
E-file Now to Avoid Last Minute rush & to avoid missing the Due date and ending up paying penalties and interests. Contact our tax Experts for any assistance any day till August 31st including Weekends @ 1-866-245-3918 or write to them @ support@taxexcise.com or ping them using the LIVE CHAT option on the Website.