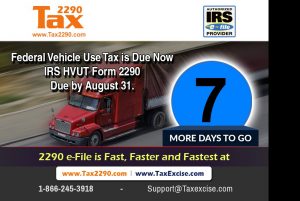 The last weekend of the Tax Season has begun, Federal Heavy Highway Vehicle Use Tax form 2290 for Tax Year 2018 – 2019 is due by August 31st 2018. Which leaves us only with 7 days in hand including this weekend, today is in Fact the Last Saturday of the Tax Filing Season of 2018 – 2019. Though there are three different ways to File Federal Excise tax Form 2290, The IRS recommended method is to E-file the HVUT Form 2290.
Since the other two options that is Mailing the form 2290 and walking into the IRS office to Paper file Form 2290 are time consuming, Truckers and Trucking Companies can write off those options as we have only 5 working days in hand.
The Last five working days one can expect thousands of HVUT Form 2290 to be filed, hence act fast E-file Form 2290 right away by logging into www.Tax2290.com The First Ever & the ONLY DECADE OLD IRS Authorized E-file Service Provider to E-file Your Form 2290. You have assistance all the way through your filing process even on weekend. Call for support @ 1-866-245-3918 or write to support@taxexcise.com or chat with our tax Experts using the LIVE CHAT option on the Website.