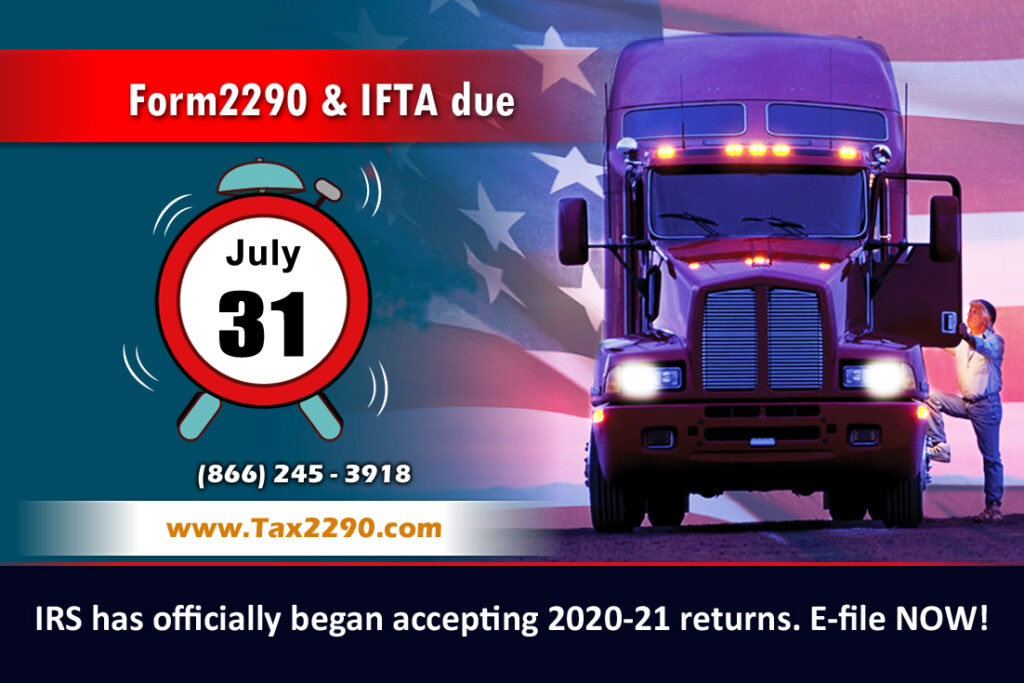 In an era when smartphones and tablets have taken over, filing tax returns through paper is slowly going extinct and completing tax returns online is the need of the hour as it is easier, precise and efficient. The less complicated your tax return is, the more rudimentary is the preparation for it.
The slight panicky feeling that happens when deadlines approach and start to accumulate is every tax payer's worst nightmare. These tax deadlines happen once every year or every quarter and failure to address them results in penalties and interest from Uncle Sam.
It's time now to put on your thinking hat and have these tax returns completed in order to stay compliant with the IRS. A Few Tax forms that are Due this month would namely be:-
Form 2290: The Federal Excise Tax Form 2290 also known as Heavy Vehicle Use Tax (HVUT) is due for renewal for the current 2020 tax year. And the deadline to report any new Vehicles first used in the month of June is due by July31st.
IFTA: International Fuel Tax Agreement is due by July 31st for the second quarter of 2020.
International Fuel Tax Agreement report is filed for vehicles that travel in at least 2 or more IFTA jurisdictions. All reports will house the amount of fuel used and mileage covered for each jurisdiction traveled. IFTA fuel reports are due four times a year, the last day of the month after each quarter closes. Prepare this report for the second quarter of 2020 before the July 31st deadline.
One Place to get all the above mentioned Tax Forms is www.Taxexcise.com. Taxexcise.com – A product of Think Trade Inc. is a One Stop Destination for all your Excise Tax Needs.
Due to the ongoing situation, you might not have access to the IRS offices due to the lockdown, it would be in your best interest to e-file your Form 2290 from the safety of your home. The IRS might not be at your reach, but they're fully operational to support e-filing and all the returns filed through our website are being processed by the IRS within minutes. 
It is important that we provide you with continuous support, guidance with undisrupted service, we've taken all the necessary measures to be at your reach 7 days a week from 9am to 6pm central time. Our help desk has a 3-way line of communication and we can be reached by Phone @ 866-245-3918, Email: support@taxexcise.com & the Live Chat support which is available on the website.
Stay safe, Stay Compliant, and keep on trucking.