Truck Tax Form 2290, heavy vehicle use tax returns electronic filing could get your IRS stamped Schedule-1 proof in just minutes from IRS. Easy, safe and secured filing only at Tax2290.com. When you electronically file, or e-file, your heavy vehicle use tax Form 2290 for vehicles you can pick the right Taxable Gross Weight category between A – V and W, and with full accuracy. If you have more than 25 vehicles at this weight, e-filing is required by the IRS. If your vehicle is operated well within the mileage use limit of 5,000 miles (7,500 miles for agriculture vehicles), you can electronically prepare and report tax suspension on these vehicles.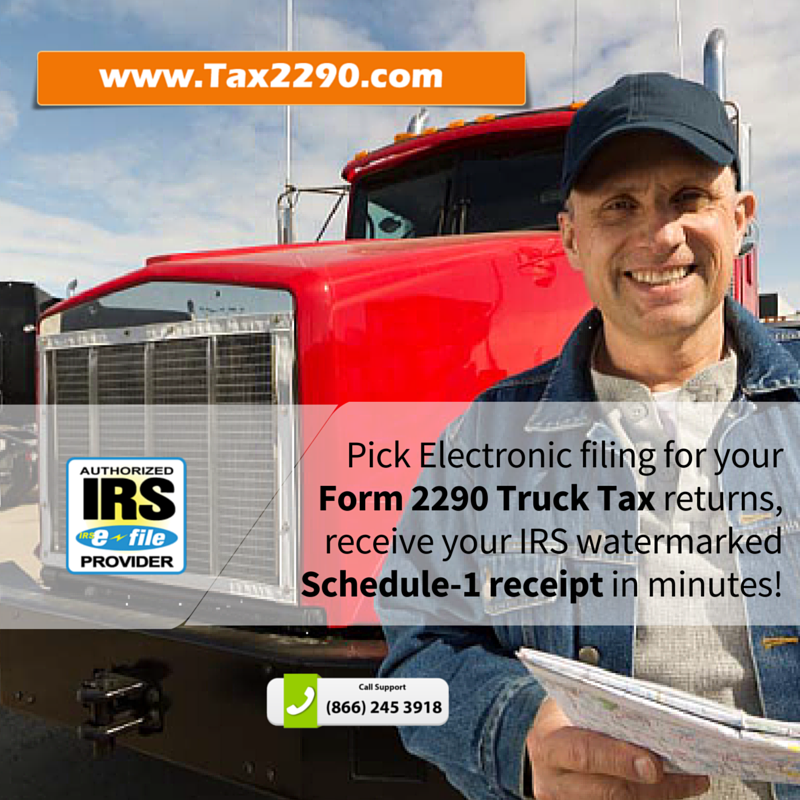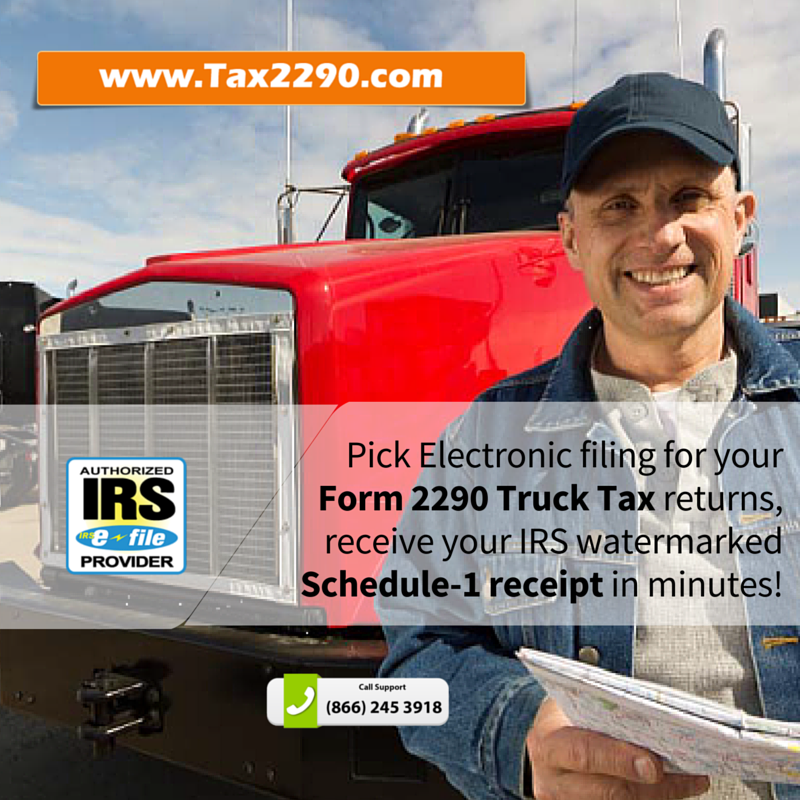 Form 2290 Filing Period for Tax Year 2020 – 2021.
The renewal period for HVUT Form 2290 is typically from July and August 31 each year. As like every year this 2290 tax is reported before August 31, 2020 for 2020 – 21 which remains valid till June 30, 2021. Filing after that would get penalties and late filing charges if your vehicle is first used in July. By doing your 2290 taxes online you could focus your attention towards your trucking business rather than spending a lot of time preparing your paperwork or convert them into digital copies sharing with your paid prepares.
Electronic filing or E-File is required for reporting IRS Form 2290 and paying taxes on 25 vehicles or more in a tax return. However, all taxpayers are encouraged to file electronically as it allows for quicker processing of your 2290 tax return. When e-filed a stamped Schedule 1 proof can be available within minutes after filing and acceptance by the IRS.
Anyone who owns and operates heavy motor vehicle with the taxable gross weight and expected to drive 5,000 miles (7,500 miles for Agriculture Use) must report and pay tax 2290. Electronic filing is for every one of all size, you may be an individual, limited liability company (LLC), corporation, partnership, or any other type of organization (including nonprofit, charitable, educational, etc.) Form 2290 must be filed for the month the taxable vehicle is first used on public highways during the current period.
Expert Tax 2290 Preparation & eFiling Advantages.
Tax2290.com and TaxExcise.com has better ways to handle your Truck Tax filing worries, being an expert and the most experience e-file service provider for 2290 truck tax returns we have the e-filing advantages and know your expectations. 
An excellent combination of comfort and expertise accessible from your home or office, desktop computer or tablet devices or from your smart phones
Dedicated tax expert who will work hard to take care of your filing and guarantee 100% accuracy as well as your satisfaction with his work.
Email or Chat or Call, we have experts to handle it with care. You're with the most trusted e-file website since 2007 and rated top "the market leader" by your fellow truckers.
Secured and Safe tax filing services from a renowned Tax e-filing company. 100% secure by Thawte SSL with encryption measures built in and an assurance about confidentiality of your personal information through McAfee Secure.
Anytime, anywhere access to your tax information and documents. This includes access to your Federal Excise Tax Returns, Schedule -1 copies, year-round assistance.
eFile 2290 Returns from your desktop, laptop or from your smartphone or tablet devices. All you need is internet connectivity and login to the website
Use our Tax2290 Android and iOS Mobile Apps for free, use code ANDROID2290 and IOS2290 at the checkout to avail 10% flat off on your preparation fee.
When you are behind wheels we know how important it is to keep you informed of your filing deadlines and preparing 2290s with 100% accuracy. We have scaled our service year on year to set a benchmark in the industry and here is what some of our prestigious customers has said about our service.
2290 Call Support
We're always there to help you and walk you through the 2290 electronic filing process, this time we have put in more efforts to make it much simpler than ever and to take off your tax stress away. Be the early bird and file form 2290 return today. Tax2290.com recommends all the truckers to efile their return online at the earliest in order to stay on safer grounds.
Call us at 1-866-245-3918 or mail us at support@taxexcise.com for any suggestion and queries. Rest assured, our Tax Experts would never let you go wrong!

---