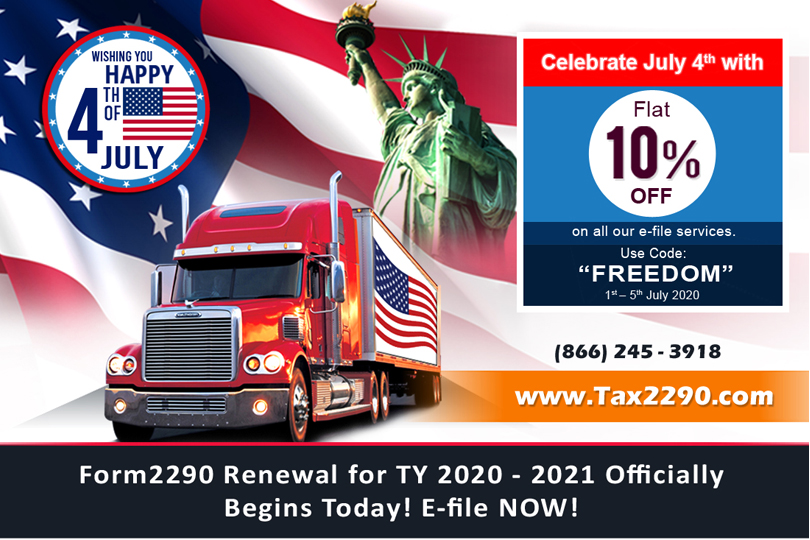 It's that time of the year again where every Truck Driver, Owner Operator and Business owner are vigilant and on their toes lining up to complete the Federal excise tax (HVUT) Form 2290. Form 2290 is due now and has to be renewed for the tax year 2020-2021. Tax season is here, and with it comes all the routine paperwork and last minute confusion. The earlier you start with the return by figuring out how much your tax is better. Electronic filing has always been the best way to report form 2290 as it is fast and less time-consuming. With most of the IRS offices still closed Electronically filing form 2290 is the only option in getting your tax return completed on time.
With July 4th just a few days away and to make the best out of it we're giving away a 10% discount on all our E-file services. Treat yourself to a discount of up to $40 by using Promo Code "FREEDOM" valid 1st – 5th of July.
For last-minute filers do note that the IRS will be processing a huge volume of returns and by having returns filed as soon as the IRS opens you can expect to receive your stamped copies back much earlier.
For users who have questions on your tax forms do reach our fully operational help desk for added support. This filing season we are operational 7 days a week from 9am to 6pm Central time, and to have maximum outreach in terms of customer service feel free to use our three way line of communication, you can reach us at 866 – 245 – 3918 or write to us at support@taxexcise.com, LIVE CHAT support is also available that allows you to connect with our agents and get your questions answered instantly.