Hello truckers and truck taxpayers! Tax2290.com team takes this opportunity to wish you a Merry Christmas 2022 and a Happy New Year 2023! Let this holiday season brings joy and happiness to you and your family. And let this new year be wonderful and prosperous. We request you to continue your support, and we, again, thank you for choosing Tax2290.com as your form 2290 e-filing service partner. We will continue providing excellent services with innovative technologies and the best customer support.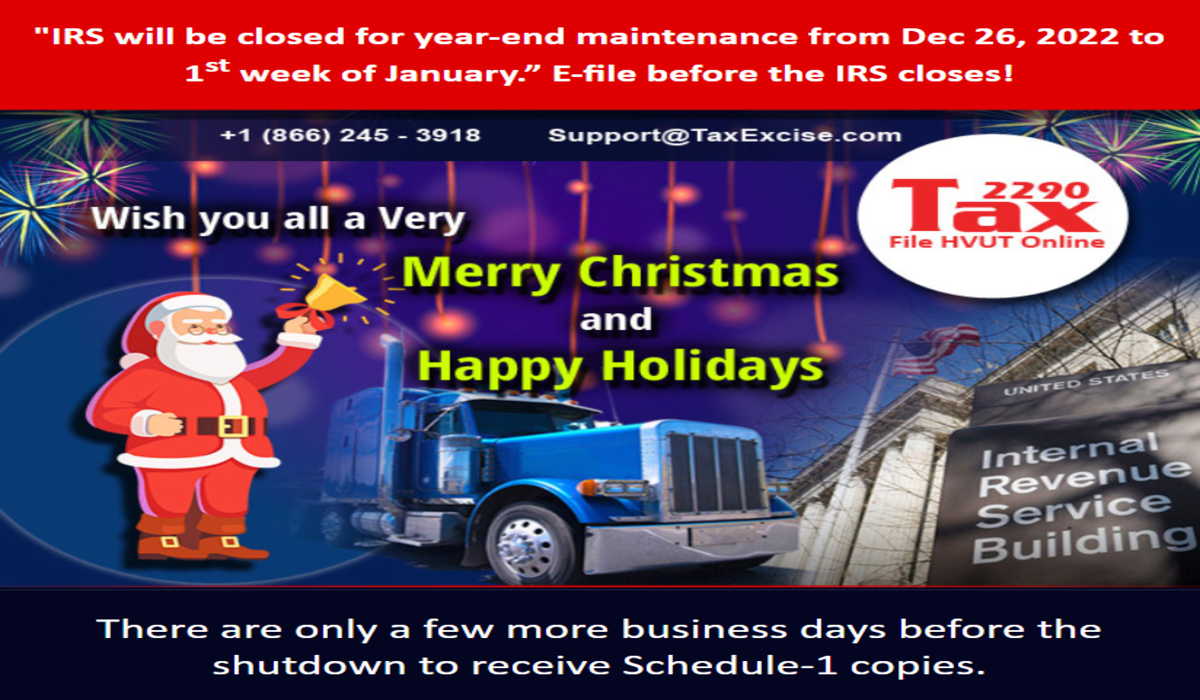 Best platform to e-file form 2290 online.
Tax2290.com offers a convenient platform to e-file form 2290 online. Our state-of-the-art user interface allows you to prepare and e-file form 2290 all by yourself. Our platform provides the best user experience where the complete e-filing is do-it-yourself basis. You need no expert guidance or support to e-file form 2290 on your behalf. Also, Tax2290.com has many attractive features that help to file your tax reports effortlessly. Our platform takes you through a simple step-by-step approach to prepare 2290 tax returns, transmit them to the IRS, pay the tax dues and receive the IRS digitally stamped schedule 1 copy.
IRS is shutting down for maintenance!
Now, we would like to remind you that IRS is shutting down for maintenance around December 26, 2022, and they will reopen only around the beginning of next year. Therefore, all taxpayers must file their taxes before that day to stay ahead of the deadlines. But truckers and trucking taxpayers can e-file form 2290 at Tax2290.com during the IRS maintenance time. We will hold your tax reports safely and transmit them to the IRS once they open to accept the tax returns.
Form 2290 pro-rated taxes are due!
Also, form 2290 HVUT for the heavy vehicles first used in November is due by the end of this month. Since the IRS is shutting down for maintenance on the 26th, you must report form 2290 for your November used heavy vehicles or trucks on a pro-rated basis on or before December 26th and get the IRS stamped schedule 1 copy to continue your trucking business on the public highways.
Contact our customer care team for more details.
Tax2290.com offers the most economical service charges to e-file form 2290 online. Single vehicle returns cost just $29.99 on Tax2290.com, and there are many seasonal and package prices. For more queries, please get in touch with our customer support executives at 1 – 866 – 245 – 3918 (toll-free) on all working days from 8 AM to 6 PM or write us at support@taxexcise.com.