Hello, Truckers! We have crossed another year successfully. We have nothing but gratitude for you. The entire team of Tax2290.com thanks you for your constant support and for choosing us as your form 2290 e-filing service partner every year. We take this opportunity to thank all the new customers and users who have started to benefit from our services. We hope to have a long journey with you and serve you with our complete services to fulfil all your tax and e-filing needs.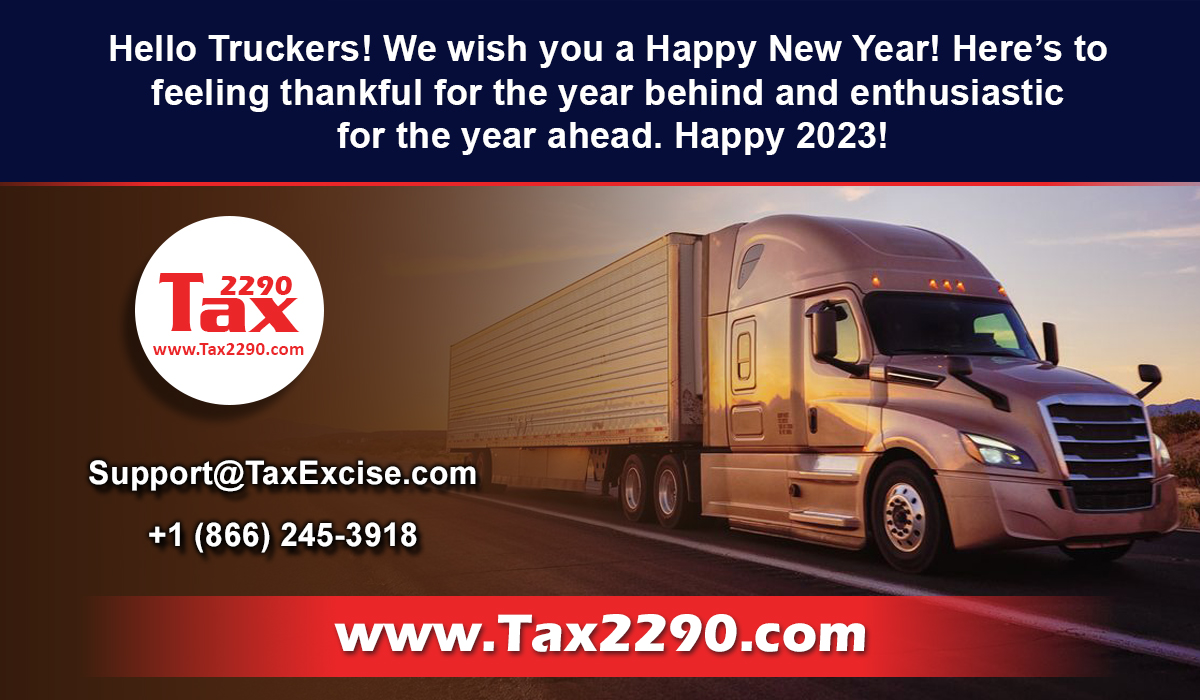 Best platform to e-file form 2290.
Tax2290.com is an IRS-approved form 2290 HVUT service provider serving truckers and trucking taxpayers to e-file form 2290 online to the IRS. We offer a convenient online platform where our users can easily prepare tax reports, transmit them to the IRS, pay the tax dues online and get the IRS digitally stamped schedule 1 copy in the email.
Tax2290.com offers convenient form 2290 online filing solutions.
Our platform has a comfortable user interface that renders a great user experience for everyone e-filing form 2290. E-filing form 2290 HVUT at Tax2290.com is a complete do-it-yourself process where you can prepare your tax reports and file them to the IRS all by yourself. You don't need any outside or expert help to e-file form 2290 on your behalf. You can contact our support team if you have doubts or face obstacles while e-filing form 2290. They will sort out your queries as soon as possible and ensure a smooth form 2290 e-filing for your heavy vehicles.
Unique features to save time!
You can save a lot of time and money by e-filing form 2290 at Tax2290.com. We have bulk upload feature where you can upload all your vehicle information through an excel sheet at a time. If you are an existing user of our platform, you can clone your previous tax returns and e-file them as new. You can also import data from your previously e-filled tax returns and prepare your tax reports for the current period.
Extended form 2290 services!
Truck taxpayers can e-file form 2290 pro-rated taxes in our platform and get the instant schedule 1 copy from the IRS. We also support 2290 VIN corrections, 2290 amendments filing and form 8849 schedule 6 truck tax refund claims. You can apply for them by choosing the options in our menu, entering the necessary details, attaching the supporting documents, transmitting them to the IRS and getting the acceptance to your email instantly.
Get timely customer support services.
You can contact our customer support team to learn more about our electronic filing and solutions for form 2290 HVUT. They will answer all your questions and support you in every way to fulfil all your form 2290 e-filing needs and other requirements. So, contact our customer support team at 1-866-245-3918 (toll-free) or write to us at support@taxexcise.com; we will reply promptly.
We wish you a Happy New Year! Here's to feeling thankful for the year behind and enthusiastic for the year ahead. Happy 2023!