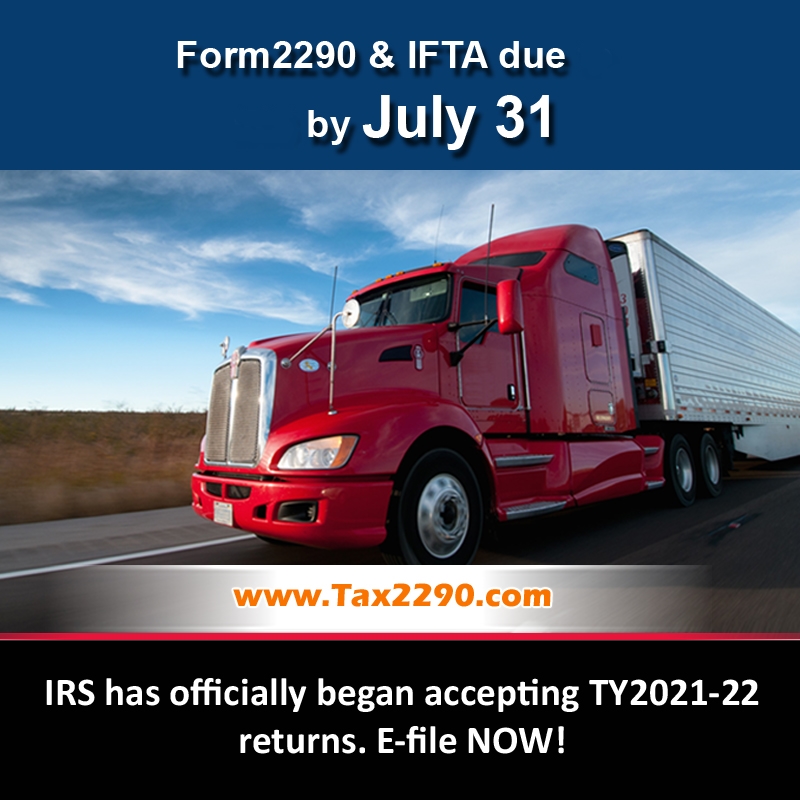 What is a Pro-Rated Tax Amount? Most users just end up paying for the complete year instead if it's a new vehicle you will only need to pay from the month you started using it. Well basically, if you use your vehicle for a lesser period of time than you're scheduled to use it for, it's fair to expect that you will only be charged from the month you started. That's essentially what we mean by a Pro-rated tax amount.
We at www.taxexcise.com/ www.tax2290.com would like to keep you reminded about the Three tax forms that are due by end of this month:
Form 2290: The Federal Excise Tax Form 2290 also known as Heavy Vehicle Use Tax (HVUT) is due for new vehicles that were first used or began operations in June 2021 the deadline to have these units reported on Form 2290 is July 31st.
IFTA: International Fuel Tax Agreement is due for the second quarter of 2021 by July 31st .IFTA is filed for vehicles that travel in at least 2 or more IFTA jurisdictions. All reports will have the amount of fuel used and mileage covered under each state jurisdiction travelled. IFTA fuel reports are due four times a year, the last day of the month after each quarter closes
Form 720 for 2nd Quarter & PCORI (Patient-Centered Outcomes Research Institute)
PCORI filings and payments for plan years ending in 2020 are due July 31, 2021. It should be reported on IRS Form 720, along with many other excise tax levies, on the "2nd Quarter" filing. And do take note that even though you have no sale to report you will still need to file out a Form 720 by selecting the option for a Zero Return (Zero Tax Liability). This is to keep the IRS informed that you do not have any Excise taxes to report during the quarter. For any tax-related questions feel free to reach our fully operational help desk. Though the IRS services would be closed during the shutdown period we @ TaxExcise.com would be fully operational 7 days a week from 8am to 6pm Central time. Our three-way line of communication allows you to speak to us by phone @ 866-245-3918 or write to us at support@taxexcise.com, to have your questions answered instantly do also try out the LIVE CHAT option available on the Website.