Tax2290.com is all set to get your Form 2290 Processed and IRS Stamped Schedule 1 Proof of Payment to sent to you instantly. 
The truckers who operate a heavy truck that weights 50,000 pounds or more has to be reported and paid the Heavy Vehicle Use Tax Form 2290 with the IRS. This is an annual tax paid upfront at the start of a tax season, that is from July 2021 through June 2022. Form 2290 is reported for the heavy highway vehicles and paid between July 1, 2021 and August 31, 2021. Tax2290.com is all set and started processing 2021–22 HVUT returns from June 2021. Since the IRS started processing the 2290s from July 2021, we had all the returns processed with the IRS and the stamped Schedule proof is sent to the truck taxpayers email inbox. Users who has subscribed for FAX copies of the stamped Schedule 1 is sent to them immediately when it is made available.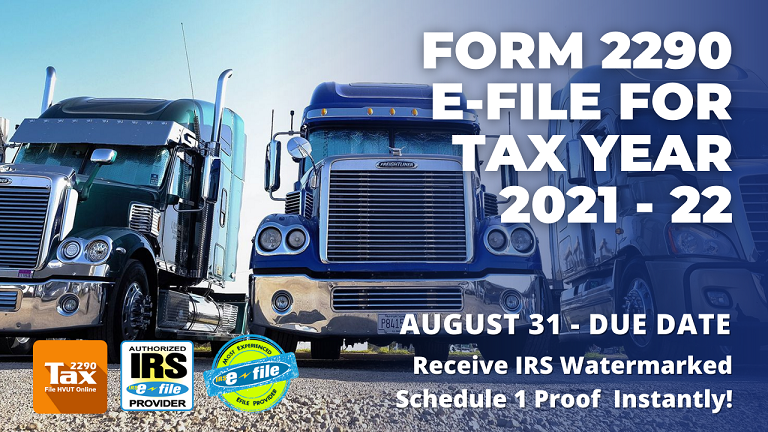 Electronic Filing for Form 2290 — HVUT Returns
Electronic filing won't let you file an incomplete tax return, prompts for all the required details before submitting it to the IRS for processing. IRS validates your details with their records and found any miss match, it would reject and allow you to correct it before it issues you the IRS watermarked Schedule-1 "Proof for Payment".
A carrier must send proof of payment of the HVUT to the Division of Motor Vehicles (DMV) along with their registration renewal. Proof of compliance may be either a copy of a receipted schedule 1 (from IRS form 2290) with a copy, both sides, of their canceled check, or a copy of the electronic receipt of Schedule 1 showing the dated e-file watermark, or a copy of the IRS form 2290 with a copy of the electronic IRS payment confirmation screen.
Record Keeping is easy, simple and safe when you file it online at Tax2290.com, we'll be securely handling your records such as the Tax Form 2290 PDF, IRS Scheule-1 PDF etc. you can access it whenever you have a need just by signing in your user account.
Tax Exempt Vehicle and Form 2290 Must be Reported
The vehicles that is expected to be used through the 12 months filing period within the allowable mileage use limit of 5,000 miles on a public highway are exempt from 2290 — HVUT taxes. This mileage limit is 7,500 miles for a Agricultural or Farm Truck/Vehicle.
Even for a Tax Exempt vehicle, Form 2290 must be reported with nil tax and Schedule-1 copy needs to be presented for vehicle registration. In this case vehicle exempt is indicated in the Schedule-1 receipt with a Suspended Category "W", which indicates it is exempt from tax.
Form 2290 Tax Payment Online
Tax Form 2290 is filed with the IRS with the vehicle details such as the Vehicle Identification Number (VIN), Gross Weight Category and type of use. Tax2290.com will automatically do the math on the tax amount you owe, which you can paid electronically using Direct Debit or EFW, EFTPS, Credit or Debit Card and Check or Money Order payment options.
EFW — Electronic Funds Withdrawal is otherwise the direct debit method to pay the 2290 taxes, the IRS would directly debit the bank directly. This is the most convenient and recommended option for seamless payments.
EFTPS — Electronic Federal Tax Payment System is the other easy or simple option to make the tax payments, however a pre enrollment with the EFTPS is required. When you newly enroll it would take couple of weeks to enable it.
Card Payments, you can use both credit or debit card to make the tax payments. IRS has a list of approved vendors who would process this card payments and extra charges apply to make a payment. The IRS also notifies that the Card Payment can be only availed twice in a year and not allowed further.
Check or Money Order the traditional method of tax payments with the IRS, write a check to the Treasury and along with the 2290 — V payment voucher it is sent to the IRS:
Internal Revenue Service
P.O. Box 932500
Louisville, KY 40293–2500
Tax 2290 Help Desk
Our Tax Experts are well trained and experienced to guide you and help you through your 2290 tax electronic filing. When you have a questions related to your Form 2290 efiling we can help you with the right steps and help you efile. Tax form 2290 efile is easy, fast and economic compared to the most of the other providers in the market. Talk to our help desk at 866–245–3918 or write to us at support@TaxExcise.com; LIVE chat support at https://Tax2290.com/app.