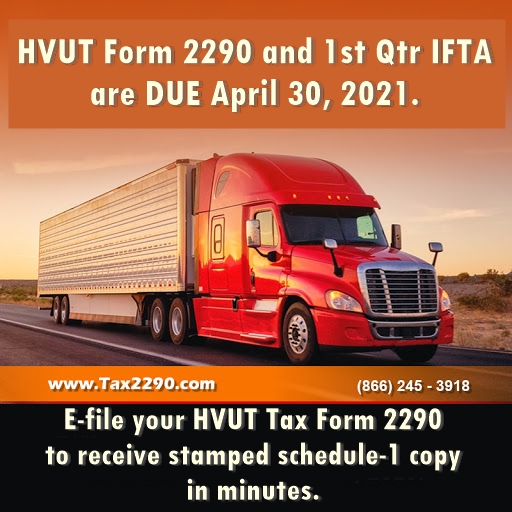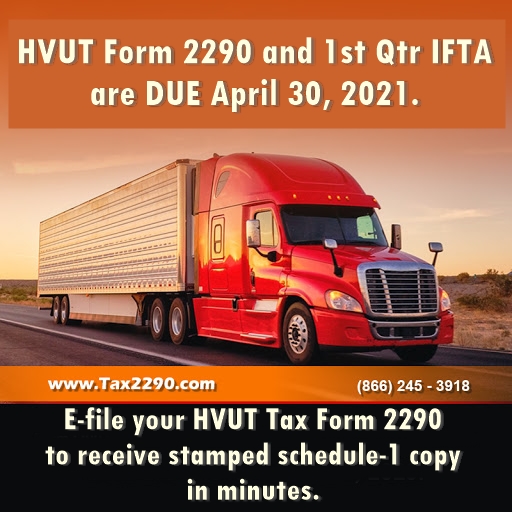 A gentle reminder from the Tax2290 team, the first IRS Approved E-file Service Provider to e-file federal excise tax form 2290, about the approaching tax Due Date.
With hundreds of things running through the back of your head, it's easy to overlook things you only do once in a while. Taxes are one of the things that you don't do too much. We understand that you have a lot on your plate, so we suggest that you E-file your Federal Excise Taxes as soon as possible to stop the last-minute scramble.
Taxes that are due April 30, 2021:
Form 2290: to E-file your Federal Excise Tax Form 2290 for Vehicles first used in the Month of March 2021. E-file your HVUT Tax Form 2290 to receive a stamped schedule-1 copy within minutes.
Form 720: Your Quarterly Excise Tax Form 720 for the First Quarter of 2021 is also due by the end of this month. To escape fines and interest, register your taxes as soon as possible using www.Taxexcise.com.
TaxForm IFTA: This month also marks the deadline for the International Fuel Tax Agreement (IFTA) for the First Quarter of 2021. While there is no way to E-file, you can get them prepared online to escape complex tax estimates.
The Heavy Vehicle Use Tax (HVUT) is a levy charged annually on heavy vehicles driving on public highways with recorded gross weights of 55,000 pounds or more. A vehicle's gross taxable weight is calculated by adding the weight of the truck, trailer, and load. Heavy Vehicle Use Taxes must be filed on an annual basis using Form 2290. The Heavy Vehicle Tax Cycle starts on July 1st and expires on June 30th of the following year. Every year, the annual renewal of your Form 2290 for a new tax period is due by August 31st.
However, 2290 is still due every month on a pro-rated basis based on the month the truck was first used. In this case, IRS Form 2290 must be filed by the last day of the month after the month of first use for new vehicles put in service. For eg, if you buy and use a vehicle for the first time in March 2021, you must file Form 2290 by the end of April 2021, i.e., Friday, April 30, 2021.
Fill out Form 2290 electronically using an IRS Approved E-file service provider, such as www.Tax2290.com / www.TaxExcise.com, that participates in the IRS e-file program for excise taxes. If you register 25 or more trucks on a return, the IRS requires you to file electronically. If you have any more questions, please call us at 1-866-245-3918, write to us at support@taxexcise.com, or contact us via the website's LIVE CHAT option.