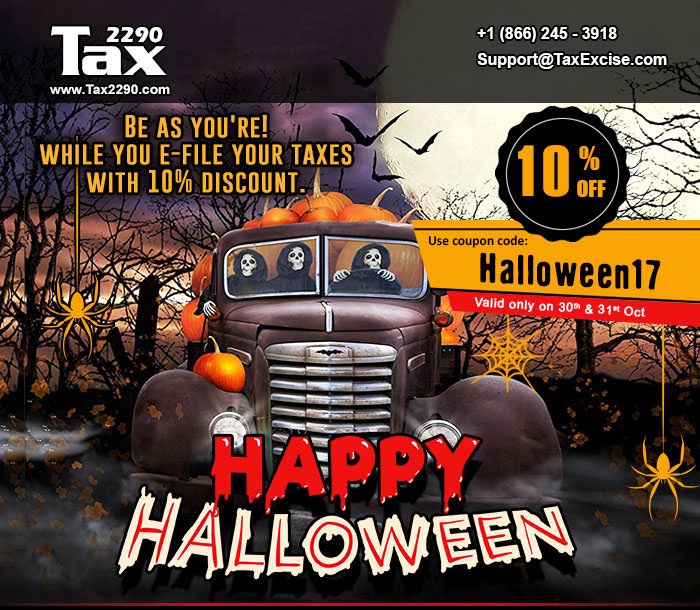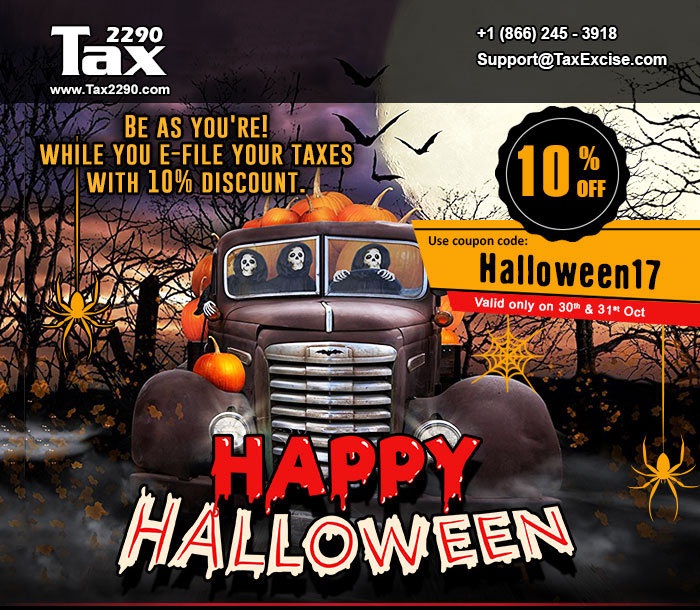 Halloween is not only meant for Kids, Says www.Taxexcise.com & www.Tax2290.com – Products of ThinkTrade Inc. Kids have their own way of celebrating Halloween and we as the FIRST EVER AND THE ONLY DECADE OLD IRS Authorized E-file Service Provider For E-filing Heavy Highway Vehicle Use tax (HVUT) Form 2290, wish to Treat the Ever Busy and Hard working Trucking Community in our own style by offering a Special Discount this Halloween.
ThinkTrade Inc offers a Flat 10% OFF on the E-file Preparation Fee this Halloween with a Special discount code "HALLOWEEN17" valid only for two days that is 30th & 31st of October. Offer is valid on all the Three Tax Forms that must be filed before Halloween Ends i.e. 31st of October, 2017.
Taxes that are due tomorrow:
Form 2290: Today October 31, 2017 is the Deadline to E-file your Federal Excise Tax Form 2290 for Vehicles first used in the Month of September 2017 since July 2017. You may simply log on to

www.Tax2290.com

& E-file your HVUT Tax Form 2290 within minutes.
Form 720: Another Federal Excise Tax Form that is due this Halloween is your Quarterly Excise tax Form 720. Form 720 for the Third Quarter of 2017. E-file it for one last time in 2017, through

www.Taxexcise.com

right away to avoid penalties & Interests.
IFTA: International Fuel Tax Agreement (IFTA), for the Third Quarter of 2017 is also due tomorrow. Though there is no option to E-file this complicated Report for several States, you may still get them prepared Online through

www.TaxIFTA.com

to avoid complicated tax calculations and confusing tax Jargon's.
Use www.Taxexcise.com & www.Tax2290.com – Products of ThinkTrade Inc, to prepare or E-file the above mentioned tax forms before Midnight Tomorrow October 31st, 2017 to avoid Penalties and also get rewarded by using Promo Code "HALLOWEEN17" to avail a FLAT 10% OFF. For any questions on queries feel free to reach our handpicked, Industry's Best Tax Experts @ 1-866-245-3918 or write to them @ support@Taxexcise.com or ping them using the LIVE CHAT Option on the website.